Bill Niekamp Roadster Revisited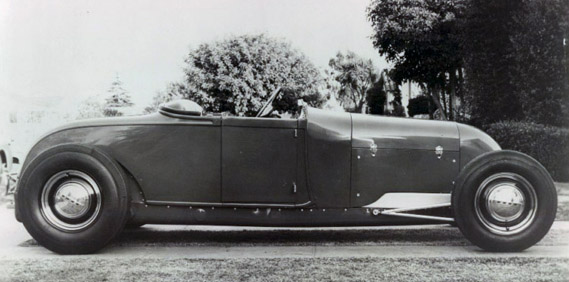 You might remember my "Guess who's coming to lunch?" post from last month, expressing giddy excitement for the Bill Niekamp Roadster coming for a car show at my work. Seeing this iconic hot rod in the flesh was amazing, and in the short time I had the car, sitting in it, crawling under it, etc., there were more and more unique details that kept coming to light. Here's a few observations that are worth mentioning:
1. Three on the tree. Bill chose to leave the stock shift-on-the-column set up presumably out of the '40 Ford his steering wheel came from too. I was really surprised he didn't run a floor shifter, but there are some good reasons he didn't. First of all, use what you got- The stock set up was already in place and it worked. Another reason I can think of may be for additional leg room. With a channeled car and a tonneau cover in place, there isn't much space for a floor shifter to move around. Lastly, he may have wanted to keep both hands on the wheel whenever possible- The column lever is much closer than one on the floor of the car.
2. Aerodynamics. Niekamp understood enough about wind resistance to channel the body and lower the suspension, as well as covering any concave surface. He went another step with teardrop fairings around the entire rear suspension to reduce dirty air even further. Between the track nose and the underside being panned, the roadster had minimal air turbulence for land speed racing. It also made his car look even more futuristic than the other hot rods at Oakland's Roadster Show in 1950.
3. Craftsmanship. Working at night (Bill was a professional car painter by day) he spent thirteen months to build the roadster. By his best estimate, Niekamp  had devoted 6 hours a day, for 365 days, just fabricating and constructing his Cadillac Blue dream… And guess what? It shows. Every bit of the vehicle is thought out, engineered, and finished to perfection. It's not the Doane Spencer Roadster it terms of overall sophistication, but the standard of quality and excellence is there.
39

Comments on the H.A.M.B.