The Other Street Slingshot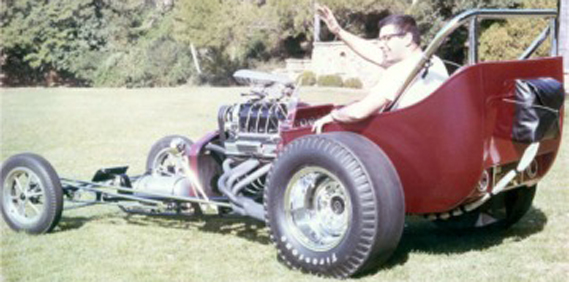 In March 1968, Car Craft magazine boldly advertised "Dragsters for the Street: Newest California Fad.� The remainder of the cover was occupied by Bill Fredrick's SOHC motivated street slingshot and a befuddled motorcyclist maneuvering their way through Los Angles traffic. Scrounging my heavily-worn personal copy of the issue jogged my memory of a picture I had saved on my computer a few years back—the predecessor to Fredrick's state-of-the-art late-60's machine.
The photo featured a proud young man posing in a stretched, tube chassis '23 'T'. Between the rails sat a blown smallblock Chevy topped off with dual Carter AFBs and a sanitary Scott-esque scoop. What caught my eye, however, was the California black plate nestled into the custom rear pan.
Just imagine for a moment being in your early-to-mid twenties and driving this machine in every day traffic, complete with blower, slicks and ribbon chute. Have to go to work? Driving to doctor's appointment? Or do you have a hot date? Take the dragster.
After a fair amount of research, I discovered that the photo was snapped by none other than Tom McMullen, and the owner of the car was his then-roommate Dave Brackett of Fullerton, Ca. According to the August 1965 issue of Popular Hot Rodding, the 'T' sported a Halibrand quickchange, Potivin cam and an Offenhauser X-Shift transmission.
The appeal of Brackett's 'T' is derived from its simplicity. Although that statement may come off as a bit of an oxymoron, a dragster for the street could quickly turn into a disjointed collection of mismatched components. With this type of car, it's easy to overdo things. Luckily, the car never veered in that direction under Brackett's four years ownership.
More than 40 years later, Brackett is still involved with hot rodding. He is now a columnist for HotRodHotLine.com and was gracious enough to share with us these photos from his personal collection for our viewing pleasure.
It doesn't get much more radical than piloting an fiberglass-bodied slingshot as your daily driver. Would you pilot something of this nature as your only car? Where do you draw the line?
-Joey Ukrop 
27

Comments on the H.A.M.B.