Bugatti 100P/110P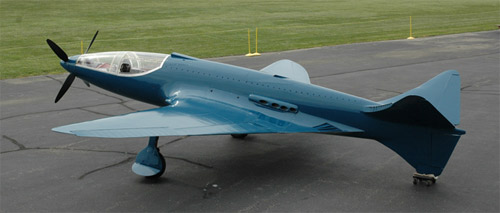 So pretty much everything about this Bugatti speedster is off topic, but I had to post it. The shape, the color, the textures, just the idea… It's rolling (flying?) art primed to inspire.
Around 1938 Bugatti set up a design office in the rue de Debarcadere in Paris. It was at this office that Bugatti gathered their best designers and engineers in an effort to build a high speed fighter. The inverted Y-tail and forward swept wings created a look that can only be described as sexy. And for power? Two legendary Bugatti 50B motors were mounted back-to-back in the fuselage and provided a combined 800 hp.
Of course, by 1940 France was surrendering to Germany. The Bugatti wasn't quite finished yet, but the engineers managed to hide the plane for the full duration of the German occupancy. After the war, Bugatti failed to get significant financial support for the project and went back to doing what they do best – cars.
In the 1950's or 60's, the completed plane was shipped to the states by a gentleman interested in the 50B motors for his grand prix endeavor. After being stripped of the power plants, the old bird was left to lay outside the man's Illinois based shop. Eventually, the plane was rescued by a Dr. Peter Williamson who also underwrote the restoration and donated the result to the EAA in Oshkosh.
Special thanks to Jay Ward for the tip and to Hugh Conway Jr. and Frederic Gasson for the photos.
94

Comments on the H.A.M.B.