Five Favorite Hot Rod Artists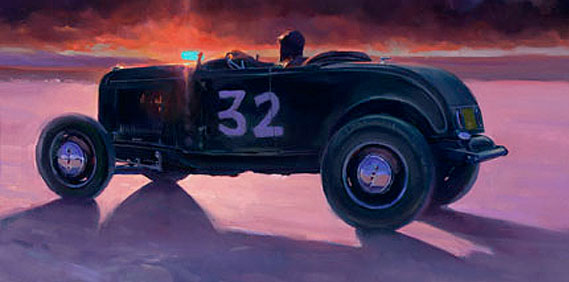 You knew this was coming, didn't you? After the post on hot rod photographers, it's worth looking at the best in painting . This one is a little subjective: Illustrators are artists, and painters are artists, but I thought it was important in this case to designate fine art painters versus more pen & ink artists like Big Daddy Ed Roth or Jeff Norwell (although Jeff is a killer painter), or even comic guys like Trosley or Tom Medley.
In the world of auto art there are only a handful of painters that I would describe as incredibly talented. There are plenty of car guys doing paintings, but not very many well-trained fine artists who do primarily automotive subject matter. And then within these extremely talented car painters there are a whole pool that do primarily photo-realistic 'still life' portraits of vehicles. They are good paintings technically, but they don't excite the soul or convey the passion. Yes this is all subjective, but it's my list, so I'm gonna tell you who I like anyway! Feel free to shoot it down or remind me of who I blaringly forgot this time. And on we go:
1. Tom Fritz: When you add it all up: Technical ability, story telling, color and light, I think Fritz is one of the best traditional hot rod painters out there, bar none. Bobbers, Belly Tankers, and Highboys are his main subject matter, but he always includes people and interesting back grounds, painting a complete picture that conveys a moment in history that feels real and authentic.
2. Peter Helck: Some would argue that Helck was an illustrator who painted, but it's obvious to see the gesture and emotion in his brush strokes. During WWII he did a series of paintings for Esquire showing the raw thrills of Teens and Twenties era automobile racing that became quite popular. These are his works that stand out the most in my mind.
3. Art Fitzpatrick/ Van Kaufman: Fitz is a living legend. He did the majority of the great Pontiac ads you know and love from the late 50s to the mid 60s, along with amazing backgrounds by his partner in crime Van Kaufman. The implied motion and photo-impressionistic style to the cars is downright gorgeous, and I think these 50+ year old paintings stand up well today. I realize he didn't do hot rods per se, but I couldn't leave him out.
4. Robert Williams: From a car art perspective, Williams was doing some pretty wild stuff for the mid 70's with a painting like 'Hot Rod Race' that actually portrayed traditional 50s hot rods and the carnage of a historic drag gone wrong. His self-proclaimed Conceptual Realism is unique and brow raising to this day. The Salvador Dali of the hot rod world?
5. Keith Weesner: How can you leave Keith out? You might argue him to be more on the illustrator side of things, but his unique painting style and solid layouts have been copied and emulated by countless up and coming hot rod painters. Keith is still the artist for cool rods and hot girls.
Extra Honorable Artist mention: Geo Ham, Ernst Ruprecht (poster artists), and Gordon Crosby!
61

Comments on the H.A.M.B.