Five Favorite Hot Rod Photographers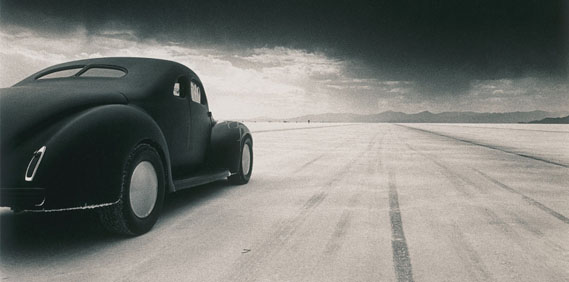 We look at them everyday right here on the Journal. Most we see are decent quality, but plenty more could be described as just fair: Images of cars snapped on a digital camera or mobile phone. But what makes a truly great automotive picture? Not just in terms of quality or composition. The kind of image that stands out in your mind for years, or ends up in a Jalopy Journal calendar? Like all art, successful car photographers conquer both technical and creative boundaries to make a connection with viewer. Beyond just documenting cool stuff, they tell a story, convey an emotion, and hopefully make you want to see more. I've got a short list of my favorite hot rod shutterbugs. Honestly there are plenty of fantastic auto photographers out there, but only a few with a large body of memorable work, in my immediate mind. The kind of artist that you would spend good money on an entire book of their work.
1. David Perry: David was shooting the traditional hot rod, custom and pin up scene in the Bay Area and LA in the early 90s. It was still in it's infancy of rebirth, long before Billet Proof, Viva Las Vegas, or even the HAMB. He befriended every oddball (including me) with an old car and documented everything he saw, primarily in black and white, but always beautifully. Nobody combines girls with hot rods like Perry does either, though many copycats have tried.
2. Peter Vincent: Peter is another photographer like David that lives what he shoots. He truly enjoys driving to Bonneville every year, spending days on the salt documenting the perfect hot rods in their perfect environment. He waits patiently for the perfect light to blend with the car, and only began shooting digital (albeit reluctantly) in very recent years.
3. Michael Alan Ross: I've only been following his work for a few years now, since hot rods seem to be occupying more of his work, but Michael is a really well rounded photographer. He shoots what he calls "landscapes", which are killer car-in-environment shots, and he shoots people, which are often famous car owners. You get the sense that he is an artist in every sense of the word when you see his images.
4. Eric Rickman: He wasn't Hot Rod magazine's first photographer (Lee Blaisdell was), or the most prolific (like Bob D'Olivo) but "Rick" was the man that made hot rod photojournalism what we take for granted today. He was that guy on the salt, at the drag strip, and in the shop capturing car guys in action, in their natural environment, rather than posing in some studio with an elaborate lightning set up. Rick took us right there like nobody had done before.
5. Rick Amado: Rick is the best of both worlds: Technically superior and artistically grounded. Another way to say it, is that he has a good camera hand and a good eye! Amado's images are all about composition, color, and subject matter blending in an exciting way. What's not to like?
(Yes, I know I'm leaving plenty of worthy names off the list, so post em' below mine…)
84

Comments on the H.A.M.B.