The Jack Stewart Ford
I once heard that Rikster doesn't own a car of any kind… or even a driver's license. I don't know that there is any truth to any of that, but I like the idea of a crazed custom fanatic sequestered in The Netherlands using only the internet to quench his thirst for learning more and more about the history of the custom car. It's as charming as it is oddly obsessive. So, I don't want to know the truth about Rikster. Don't tell me.
His latest obsession is the Jack Stewart Ford. One of his buddies, Palle Johansen, bought the car and had it shipped over seas and then asked Rikster to help research its history. That assignment lead to a discovery trip to the states in 2010 and, in turn, that lead to a book suitably titled, "The Jack Stewart Ford."
But a book that was entirely dedicated to one car and its history would be a bit of a bore – even to the obsessive compulsive. So, Rikster decided to follow the car throughout its life and then branch the story off at each of the car's owners. As such, you get a really broad story full of colorful characters and interesting historical cars – all sort of revolving around Stewart's '41 Ford.
It's pretty well done too. Rikster is a graphic designer by trade and it shows in this book's layout and the tactility of the whole package. The book is put together well, it's written decently, and the "tree branch" story line seems to carry the reader's interest. If you are one of those diehard custom guys, I don't know that you can miss this one.
Details here.
Congrats on popping your cherry Rikster. You did it in style.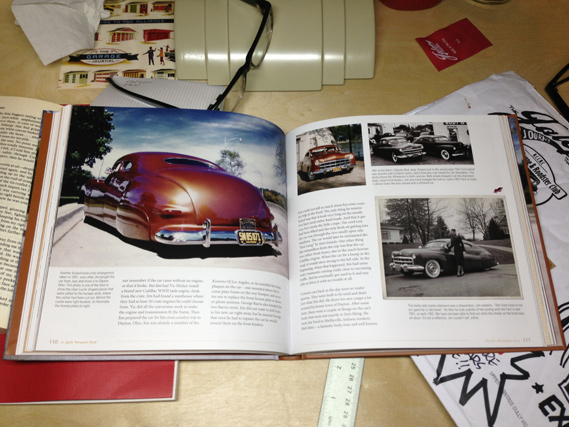 47

Comments on the H.A.M.B.