The Coachman Show 1955-1957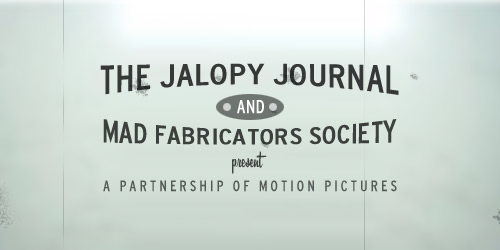 When the first episode of Mad Fabricator's Society was released, I immediately saw three things – talent, passion, and potential. Each episode that Piero has released since has just gotten better and better and as I've gotten to know Piero's work, I've also gotten to know him as a person. Put short, we've become pals…
It only made sense then that I contacted Piero first when I became interested in starting a new video feature on The Jalopy Journal. After throwing some ideas back and forth, Piero and I decided that he was just the man to host a monthly video column. I developed our very own in-house video player (no low quality YouTube stuff here) and we were on our way… In fact, welcome to the first of many exclusive and incredible video columns from Piero. Here he is in his own words:
…………………………………………………….
I came across this footage about 4 years ago when I was working on Volume 1 of the Mad Fabricator's Society. I don't know who made it or where it came from, but it seems like several people I know have it or have seen it. I feel this piece of history needs to be shown to the masses and felt that it was more than appropriate to use as our first installment of the video column. We bring it to you in three parts…
[flv:Coachman1b.flv 500 320]
Part 1 (click the play button above) opens with Barris and the Kopper Kart. Seeing this car roll into the show is enough to stop your lungs, but keep watching… Along with the Kopper Kart, you'll see the Kookie Car, the Dream Truck, and several other well known customs and hot rods from the period. Note Norm G. and his monster shirt or how about Barris walking around in big furry slippers?
Let's see what famous cars you guys can name? (Rikster?)
[flv:Coachman2.flv 500 320]
Part 2 features the trophy girls… But to be honest, it seems as if the girls are actually the trophies! Check out all the guys trying to have their way – some with success, some with out. Rumor has it that Barris was actually dating the trophy girl at the time and her reaction to his sweet talking sure seems to support that notion. Barris was always a lady's man.
Also notable is the appearance of Ed Roth in his dirty trousers and perfect monster shirt. He almost steals the show from Norm G. as he takes home best of show.
[flv:Coachman3.flv 500 320]
Part 3 features more girls, midget racers, and even more fantastic cars. We see the Coachman Car Club hanging around the NHRA tent and possibly talking about judging as they are later seen actually inspecting the cars. Even more interesting? Watch how daunting a task it is to get the cars off the field. Boards, bricks, rocks… If it was around, it was used to help get these low cars off of the rough terrain. And yeah… There is even a trailer queen or two.
Catch ya next time – Piero.
…………………………………………………….
Pretty rad, huh? Marcie was helping me edit this post and as she did, we both watched the videos together. In almost unison, each of us commented on how much this show from the mid 50's resembled the first Lonestar Round Up held here in Austin. The venues are almost identical (is there a better place for a show than a high school football field?) and the turnout is pretty comparable as well. I wonder if this small group of kids realized back then that each would leave a mark on so many.
That's history…
196

Comments on the H.A.M.B.