Top 3 Custom Shoebox Fords of the 50s
Sometimes overshadowed by the 49-51 Mercury, the 'Shoebox' Fords of the same era were the backbone of the burgeoning custom car scene in 1950s Southern California. 1949 was a big, big year for Ford with new 8BA Flatheads, kingpin independent front suspension, and sleek modern styling. Much like it's big brother Merc, these post war cars were light years ahead of the 1948 models, and were equally appealing with either mild or radical customizing. Its hard to nail down just three favorites from this body style, so I picked one for each year. I'm missing plenty of other great 50s Shoeboxes, so please chime in with your person favorites:
Buster Litton's 49 Coupe: I love the entire car from the hardtop treatment with no B pillar, to the peaked fenders with Studebaker headlight units. Buster's car just had a very rakish, modern profile with a strong sense of forward motion. Obviously a positive influence on Keith Weesner's car design and many others, it's hard to find any fault with this one.
Junior Conway's 50 Coupe (2nd version): The post-accident version of Junior's car had so many styling cues lavished upon it, yet the car remains fairly clean and balanced. Working at Barris' shop had it's advantages for sure. I really like the '55 Chevy headlight hoods and the strange '54 Dodge side trim on this car. The rear fin treatment took a while to grow on me, but I think they work with the overall package (including the 55 Buick taillights) pretty darn well.
LeRoy Goulart's 51 Coupe: This is one of my favorite Gene Winfield custom cars of the 50s. This Olds-powered beauty had great front end styling with it's split Pontiac bumper, peaked grille surround and unique headlight treatment. The peaked rear '56 Olds taillights and license plate opening work well together as well. Slammed on the ground and sprayed in a beautiful green-gold paint, the entire package looks amazing.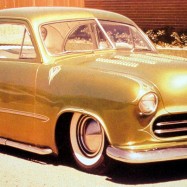 72

Comments on the H.A.M.B.