The Hot Rod Dash
As I type, it's 2:31am and I can't seem to keep my eyes closed. Lots of people have sleeping issues for what seem like normal reasons, but my insomnia is due to my own lunacy. I wish I was simply stressed out about work or maybe worrying about that promotion I was sure to miss, but no… I can't sleep because I can't stop thinking about hot rod dashes. Maybe, just maybe – this post will help.
The "control center" of a hot rod has always been one of the most important variables of the driving experience for me. As crazy as it sounds, the layout and feel of the forward view can make or break a car. Lots of things give a car it's personality, but nothing touches the driver emotionally in the way a tactile steering wheel does or the way a really well laid out set of gauges do. These are the things that translate a hot rod and its character to the driver.
All of this (my lunacy and the importance of the hot rod dash) in mind, I decided to sit down and list my favorite dash/steering wheel configurations of all time. Hot Rods only… We might do customs a little later depending on my sleep schedule.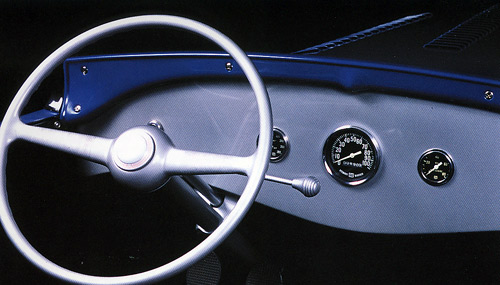 The Niekamp Roadster
It's only fitting that we start with the Niekamp roadster. Oil pressure, water temperature, and speed are the only vitals a serious driver ever really needs to monitor. The rest is often overkill. The simple and silver dash is shown here fitted with 1950's era Stewart Warner gauges, but the car originally featured '49 Plymouth instruments. The 1940 Ford steering wheel isn't cliche, it's just perfect. And you can't beat the feeling of throwing a column shift up and down (can ya Reggie?).
Bob McGee's '32
Bob McGee debuted a lot of innovations on his famous roadster. Things like hidden hinges and hood latches, a filled cowl vent, and a subtle deck lid stretch really freaked out and amazed people of the day. Still, it's the dash that does it for me. The story goes that Bob was really into Miller Indy cars of the late 30's and as such, he hired on the great Whitey Clayton to create this one using those racers as an inspiration. The huge Stewart Warner tach (worth thousands these days) is flanked on each side by 2 5/8″ accessory gauges. The timing tag is not optional in any sense of the word. Again, the '40 Ford wheel and a column shift (you're on to something Reggie) are utilized for speed and comfort.
The Doane Spencer '32
The most important '32 roadster ever built… Doane Spencer simply did everything right. An 8-gauge set of convex glass is backed by engine turned stainless and fronted by a Bell 3-spoke. It's this configuration that inspired the dash in my '38 and it's this roadster that changed my world.
The Dick Flint Roadster
Dick Flint's roadster is another with a legendary status. And while there is no denying the fact that the track nose and belly pan has had a great impact on a lot of people, the dash is equally as elegant. Dick took an Auburn gauge panel, removed the insert, plated it, and then stuffed it full of the 2 5/8″ Stewart Warners. I believe the speedo is a stock Auburn unit (S/W as well). I'm in love with the loan amperage gauge located just outside the panel. It balances the '40 Ford wheel topped column perfectly.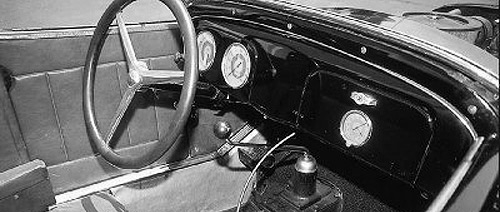 Frank Mack's Track Roadster
This image is terrible, but it's the best I could do at this odd hour. The Frank Mack track roadster (also featured in the lead photo of this article) used to stand out in my mind most as the only car that actually looked good sporting E&J headlights. Then I started studying the interior of the roadster and realized Frank did a lot of great things. The most obvious feature is the modified '37 Ford dash stuffed simply with stock '37 gauges. It's a very clean and business like look that works well in such a small car. Just as fitting is the plated '23 T steering wheel. I don't know that I've ever seen one done in such a manner and hope that I see more, because it is absolutely gorgeous.
……………………………
I think that might have worked. It's now 3:27am and my eyes are heavy and my head is empty. I'm a lunatic, but a happy one.
Damn fellas – I love this stuff.
Photo Credits: Most of these images were taken from my own archive that I've collected through the years, but some came from one of my good pal's (Just Steve) last project – Hot Rod Milestones.
82

Comments on the H.A.M.B.