Road Trip Revival: Part 3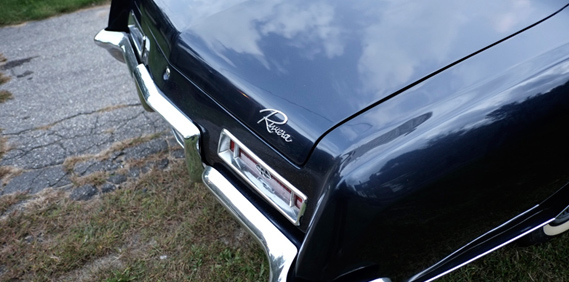 We arrived at Boston's Logan Airport a few minutes earlier than scheduled, but the Good General was already there in his '54 Ford waiting on us. He scooped Norm and me up and before we knew it, we were standing in front of his shop waiting for his bay door to open and wondering what we would see when it did.
Buying a car sight-unseen is a long odds gamble that rarely ever hits with much of a payoff. Pictures seemingly never represent 100% of reality. Descriptions can never really be honest enough. Willing and inspecting friends don't always share your eye. There are so many different and dark alleyways a deal can go down before it gets to you, that chances are you are gonna end up disappointed in one way or another.
I knew all that going in. Still, I had weeks to stare at the pictures Mark took for me and plenty of time to dream about the car and its potential. By the time I arrived in the Boston area, my expectations were completely driven by emotion rather than intellect. I was perfectly tee'd up for disappointment and despair.
When Mark opened up the big bay door to his gorgeous shop all Norm and I could really see is 40-feet of Buick. His blue '64 was on the left and my green '65 sat on the right. Both of us sort of nervously shuffled around each other's cars and took them in. The interior on mine was better than I expected, but the paint was not what I had imagined. The engine compartment was honest, but the battery was dead. A quick charge and we got her fired only to be met with a charismatic lifter singing in chorus with a massive exhaust leak. There was also a mysterious smoke show coming from the driver's side header area. Further inspection showed a lose power steering hose was leaking fluid on the hot exhaust – an easy fix, but was this a sign of more to come?
Norm, on the other hand, was fighting a mental battle of his own. His car was clean. It started easily and sounded willing. However, in the hectic process of buying both cars from the same seller a simple detail was missed. The car didn't have a/c – something Norm really wanted. He said nothing and forced a smile to his face.
Once the cars were warmed up, we decided a trip around the block for each was in order. We took mine first. After a few minutes, the lifter noise vanished and the motor came to life. The old Buick drove out wonderfully. The motor made excellent power, the brakes felt strong, the tranny shifted smoothly, and she handled like a dream. The despair in the back of my mind was beginning to fade. "This car," I thought, "just might make it the 2,000 miles I have in front of me."
And then I noticed that just about nothing electrical was working consistently. Not the blinkers, not the headlights, not the power windows, not the horn… For my own mental health, I stopped testing anything else and parked her.
Norm, still silent in his disappointment, took his car for a drive next. And much like my own, his '64 drove out just as it should. He was so confident, in fact, that he stopped at a bottle shop and we picked up a few six packs of beer. The rest of the night was spent huddled around a camp fire in Mark's backyard drinking beer, eating some incredible pizza, and bullshitting with both Mark and Bill (aka Slick Willy). The Yankees commented on the nice weather while the Texans bitched about the nip in the air. Jesus god it was cold…
The next morning was greeted with a quick breakfast followed by the launch of the first leg of our journey – a 400 mile drive south to Baltimore and the Hot Rod and Custom Revival Car Show. The first two hundred miles or so went swell and were only hampered by a down poor that limited both our visibility and our ability to really enjoy our new cars. As we rolled into Newark, NJ I began to notice that Norm's car was smoking a bit. Not a lot, but enough to suggest that water was entering the combustion mixture at some point.
Just as my concern began to build, it happened… I was in front cruising down the turnpike at about 75 mph when I heard what I thought must have been a gun battle raging behind me. "Oh jesus," I thought… "Norm has returned fire to some Yankee's aggressive driving maneuver. We are in for it now."
I glanced in my rearview mirror to see tire shrapnel in every direction. Norm's hands were sweeping from side to side and his '64 was struggling to keep its lane. After a few seconds, he got the car pulled to the shoulder and we accessed the damage – a blown driver's side rear tire. Norm looked at me, shrugged his shoulders, and muttered something along the lines of, "The goddamned thing doesn't have a/c either."
We dodged the 75mph traffic, got the spare mounted, and headed on against the tension of disappointment.
But by then, the skies were clearing and I was finally able to relax a bit in the driver's seat. The more miles the '65 rolled, the more put together she became. Amazingly and without explanation, shit just started to work. The windows started to consistently roll up and down, the horn blew, the clamshells did their thing, etc… It was as if the car was waking from a long slumber and finding it's stride.
Until, I developed a fairly audible and certainly "feelable" vibration just outside of Baltimore. It came on at 65 and seemed to vanish at 75. Worried about Norm's tires, I decided to cruise at around 64mph – just under the self imposed governor. Which seems sensible, but somehow Norm and I had found ourselves in the belly of Baltimore's shady district. We were unsafe at any speed – that much I was sure of.
……….
Which will blow a gasket first – Norm or his car? And what is that damned vibration?
Tune into the next installment of "Road Trip Revival" to find out!
Special Thanks To:
Mark – Seriously man… I owe you huge for everything you did for Norm and I. You now have two really good pals in Texas that you can count on for anything. Seriously.
50

Comments on the H.A.M.B.