The 2012 Hot Rod Revolution: Registration is OPEN!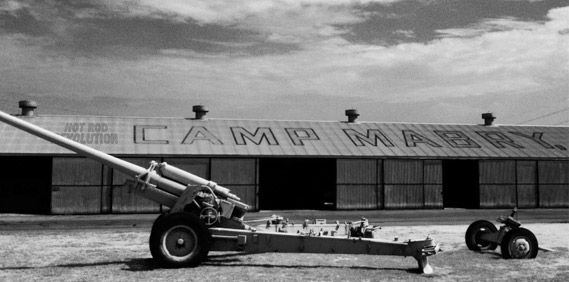 A sweltering breeze hissed among the cedar trees soldiering randomly up the hillside. The earth and the grass baked to a golden brown as the white orb of the sun cast light uniformly on everything that stood. There were no shadows. It was simply too bright for contrast of any kind. From several directions, Jeeps issued by the United States Army approached with rooster tails made of dust.
The Major drove his Jeep up so close that I could hear the slight exhaust leak blowing just past the manifold on the driver's side. I was now surrounded by soldiers painted with serious faces. In unison, they all shut their Jeeps off and stared – none so coldly as the Major himself. For one long and excruciating minute, he said exactly nothing as he mad dogged me at close range.
"Do you know who I am?" he asked.
"Yessir," I replied.
He took a cigar from somewhere on his fatigues and smelled it. He then gracefully drew his lighter and ignited the tobacco in one motion as he stared into the distance at the Camp Mabry Parade Field. The Major took one puff from his cigar, inhaled slowly, and then put the beast out on the fender of his jeep.
"Do you know what that field will look like with 150 of the best traditional hot rods in the country parked side-by-side?"
"Of course sir, we did this last year and…"
The Major interrupted. "I was deployed last year – feeding wheat with blood and protecting the field in which your hot rods sat. I have no time for last year and just enough for this year. You do understand that my men and I expect excellence on every level?"
"Yessir. I think with the earlier date we will have better weather and…"
His grimace was enough to shut my trap. I had lead with an excuse and couldn't have made a bigger mistake given the circumstances. I could only hope for a pass of some kind.
"I expect the best on November third," he said briskly as he mounted his Jeep. Twenty tiny explosions followed as all of the men started their Jeeps and reached for a gear. They pulled away leaving me in a cloud of dust and wondering how this all was going to end.
……………………
Registration for the 2012 Hot Rod Revolution is now open. The event will be held on November 3, 2012 at Camp Mabry – the same active military base the event took place on last year. Due to security and our "quality over quantity" pledge, this is a PRE-REGISTRATION (as well as a pre-1948) only event. To bring a hot rod, you must first pre-register. You can do so here.
Our marching orders have been set by history. Along with some of the best traditional hot rods in the world, spectators will also be able to browse a collection of vintage military armor while being entertained by some outstanding bands. This isn't something any of you want to miss. Promise.
17

Comments on the H.A.M.B.