A Pimp Is Back On His Game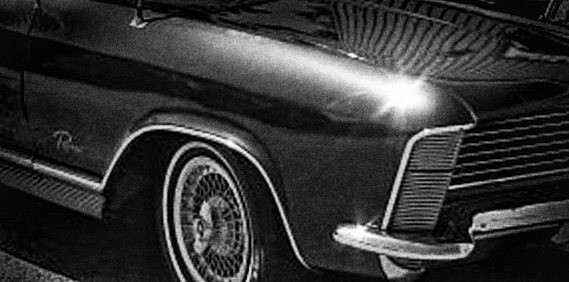 It was just a matter of time really… Especially after my buddy Mitch literally forced me to take his '63 Riviera for a drive at the H.A.M.B. Drags. It was like a crack dealer giving a free hit to a rehabbed junkie. I didn't stand a chance. No chance at all.
For the past year, I've been putting a little money back each month with an eye on finally putting the Tardel/Cochran coupe in glossy black. In all honesty, that would be the responsible thing to do… But lowlife fiends like myself rarely do the responsible thing when there is yet another high on the horizon.
And so, my hunt for a '65 Riviera got really serious just after the H.A.M.B. Drags. I found myself laying in bed late at night, face illuminated by the LEDs of a laptop screen, obsessively clicking away and searching for the perfect Riviera. Night after night, I'd do this… and by day, I was calling and emailing friends asking if they'd go check out this car for me in Detroit, or this other in Irvine, or… I was a mess. I was a pure junkie on the hunt for something I didn't at all need.
And then I found it. You usually know when you find it, don't you? I certainly did. It was an obscure ad placed from the wrong coast in an area in which I knew nobody, but it looked to be the car that I wanted at a price that I could pull off. I'm simply a sucker for all original, low mileage survivors and this one just happened to be in one of my all time favorite factory color combinations. But, there were hurdles…
I've never really consummated such a transaction over such a distance and I've certainly never bought a car sight-unseen. Shaken with my itch and looking for anyway to scratch it, I decided to tap into the H.A.M.B. Alliance database and found a couple of recognizable usernames that weren't too far from the car. I blasted off private messages as quickly as I could type them. And this is really where this story begins I guess and it's exactly where I am going to end it now.
I have a lot of people to thank. A lot of folks that don't know me in the least went out of their way to help me out. I still haven't seen the car yet and, amazingly, I'm not all that nervous about it. But I kind of want to save the juice of this story for when I actually do get in the driver's seat and blast on down the road. Which, of course, begs the question – How am I going to get this thing home?
The answer to that one comes down to economics. If I can at all afford the time off and the travel, I just might fly up north, pick the car up at my new best friend's shop (again, story on that later), and then drive it down to Baltimore for The Rodder's Journal Vintage Speed & Custom Survival Show. After that, it's a simple 2000 mile drive back to Texas with all of my buddies that just happen to be headed up to the show as well.
And if that doesn't work out? A boring, but surprisingly affordable transport company might get a call.
Anyway, the real purpose of this post is to call off the dogs. My search is over. The Junkie has been fed. Much more to come on this one… Promise.
114

Comments on the H.A.M.B.