The Biggest Tech Week Ever
I've been dodging Shane from Baileigh Industrial for a few weeks now. He's been wanting to create some kind of a "tech week spectacle," but I just didn't know if I could stomach his abuse so soon after the H.A.M.B. Drags. My knee caps and thumbs still haven't completely recovered from our last meeting and there was no telling what he had in store for me this time. And so, I decided that I would avoid Shane and his strong arm tactics at all costs knowing full well that eventually, he would find me and have his way.
My time ran out this morning. As I was walking my little girl to the bus stop for her first day of first grade, I noticed a MURDERED out '76 Chevrolet Cheyenne creeping the neighborhood. Just as soon as I got PJ on the bus, the truck cornered me and a burley man dressed in all black jumped out of the passenger side. He stuffed me in the bed of the truck, slammed the camper shut tight, and I felt the truck lunge down the road mindless of any Texas school bus laws. Twenty minutes later, I found myself sitting in a three legged lawn chair on top of a lonesome hill country hill.
Shane stood in front of me with a calm look on his face. He said nothing. Instead, he softly stroked my pinky finger and considered the Baileigh BB-4816M Magnetic Box and Pan Brake that had been setup to the side like a torture prop of sorts.
"It's time Ryan," Shane finally murmured. "We are starting tech week… TODAY." As the carefully chosen words dispensed from Shane's mouth, a distant sound approached. It reminded me of kids beating a trampoline with baseball bats. Louder and louder. Closer and closer. Even Shane and his brute appeared to notice with concern. What could it be?
Shaking off the mysterious sound, Shane continued. "And if tech week doesn't start today, I'm going to rip you a brand new, three bedroom, two bath, double-wide ass…"
Just before Shane could complete his threat, the sound came to a raucous peak. Above us, as if it came from nowhere, was a huge and obviously armed black helicopter. Ropes dropped from its sides and men dressed in all black slid down them – creating a high pitched whirl as they picked up speed. One figure hit the ground with a thump to my right and in one fluid motion took out Shane's muscle with a blow to the neck. The other grabbed me and took me air born with the 'copter. As we flew off, I could hear Shane's primal screams.
"TECH WEEK STARTS TODAY RYAN! TODAY! TOOOOOODDDDDAAAAY!"
The helicopter transported me and my captor just out of sniper range before it dropped us in a valley full of cedar trees. Still shaken, I sat on the dry cracked ground and looked up at the mysterious man in black. He took off his ski mask and I instantly recognized my kidnapper. It was Matt from Gear Drive.
"Today, Ryan. Tech week. No questions. No answers. You have 36 minutes."
And with that, he was gone.
I've managed to make it back to my office from the middle of nowhere and I sit here before you with the fear of god in my soul. This thing goes way deeper and is far darker than I ever could have imagined.  I have no choice but to start Tech Week today and to save myself, I must provide some kind of ransom or promotion to these horrible people that are hell bent on seeing me destroyed… or at the very least, disfigured.
So, welcome to the biggest Tech Week we have ever done here at The Jalopy Journal. It starts TODAY and ends on September 17th at midnight. After that time period, we will then have one week of voting. On September 24, we will then announce our winners. Prizes are the following:
First Place: A Baileigh BB-4816M Magnetic Box and Pan Brake (available in 4,6, and 8-foot lengths), a shop banner, and free shipping to the lower 48. If you aren't familiar with the new magnetic brake from Baileigh, I suggest you check out this video and this thread for real world usage. It will bend much more than just my pinky… and do it in ways you never thought possible.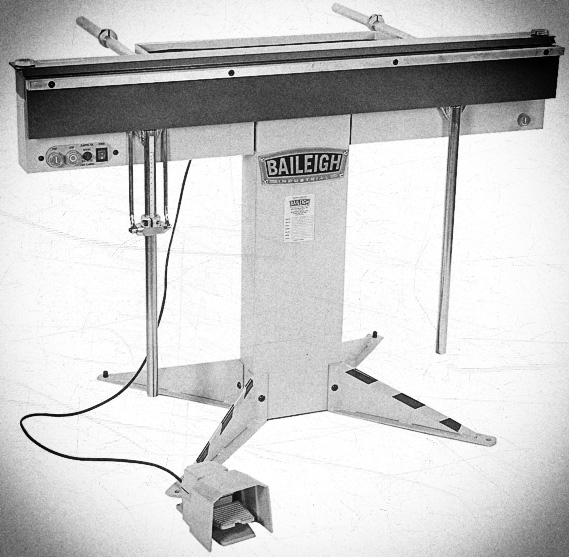 Second Place: A fully welded set of Chevy Small Block Lake Headers from Gear Drive.
Third Place: A "you weld it" Chevy Small Block Lake Header kit from Gear Drive.
………..
If you are keeping track at home, this is over $3k worth of prizes and represents the biggest reward we've ever given out for a single Tech Week. Put shortly, this is huge… and if you fall short, my blood will be on your hands.
So, what are you waiting for? Tech week starts NOW!
49

Comments on the H.A.M.B.