The only Gold in the Wendover Nugget…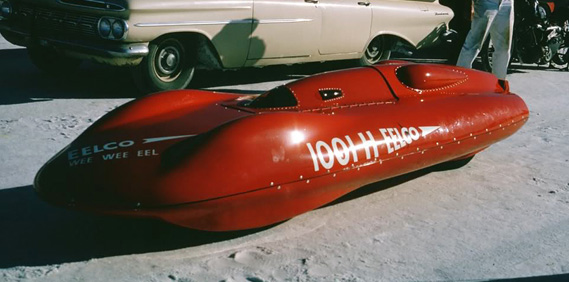 Just got back from a few days on the Salt seeing new and old friends and catching a little racing. It's always a great time just being at Bonneville, no matter what. Wendover, on the other hand, (or "Bendover" as it's often called when the hotel room rates triple for Speed Week) isn't much to write home about. The Nugget Hotel & Casino has a great impromptu parking lot show with some pretty nice iron showing up, and the locals are often 'colorful' to say the least. I was going down the elevator on Saturday and accidentally got off on the 3rd floor, stumbling into the dead quiet banquet room entrance where the 200 MPH Club holds their award ceremonies. To my amazement, Els Lohn's Wee Wee Eel was sitting on a lonely no-name display stand, looking pretty tattered from years of hotel guest abuse. Across from the sad little streamliner was a plexiglass case filled with hand-painted wooden miniatures of past 200 mph LSR liners that was really well done. Walking to the other wall were two display cabinets with nearly every single Bonneville Speed Week program from 1949 – 1989, with a few missing here and there. Next time you head out to Bonneville, it's worth hitting the third floor of the Wendover Nugget, and taking a peek at this display room while it's still in one piece!
15

Comments on the H.A.M.B.