Veda Orr's "Lakes" Pictorial 1946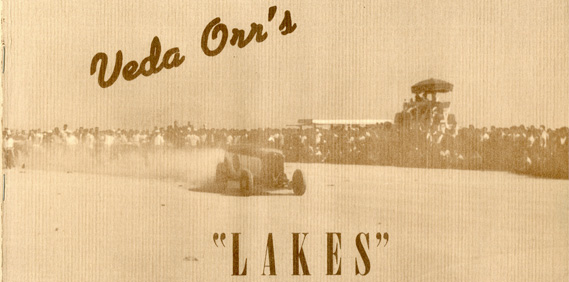 I picked up this great little reprint from the SCTA trailer at Bonneville one year, and just love it's authenticity and vintage feel. Veda's Pictorial for the 1946 season wasn't exactly a coffee table book- It's really more a hand-made booklet by the great lady of hot rodding, Veda Orr, with 24 pages all stapled together between two thicker cover pages, adding up to 48 pages of black & white photos, race car illustrations by future automotive designer Dick Teague, and a small fact section for each driver and vehicle entered to race that year. I don't know how many of these booklets that Veda originally made, but it couldn't have been very many, so I'm really grateful that the SCTA folks decided to lovingly reproduce it. I enjoy seeing  her manually typewritten pages with data about everything from the racing classes, points and top speeds, to details like where all the trophies were made in Southern California. Take a look at the roll call of those members who made a contribution to the "Automotive Engineering field"; It's the Who's Who of Hot Rod History.
This book was later republished by Floyd Clymer adding 1946- 48 Dry Lakes events, but it was then professionally typeset, and lost much of the hand-assembled charm found in Veda's original. I've scanned the first 12 pages for your perusal, and speak up if you want to see more of Veda's Pictorial next week…
………….
26

Comments on the H.A.M.B.