Ford Model T Postcards
Just to ride the coat tails of the Highland Park Ford Plant photos I posted earlier, I have some related artwork to share. These cool little comic postcards for the Model T were produced throughout the Teens and early 20s, often done by freelance artists poking fun at the simplicity, farm-like utility or massive success of Henry's Tin Lizzie. The Ford Motor Company also capitalized on these cards to do a bit of boasting about the Model T's virtues of low fuel consumption and extreme durability. I love the simple editorial style of illustrations, offset printing process, and the subdued color palette. They just have that feeling of being from that era. I wish car manufacturers still made print ads like these, just as collectors pieces, if nothing more.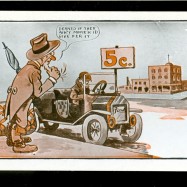 8

Comments on the H.A.M.B.