The Bob Roddick Story: Part 2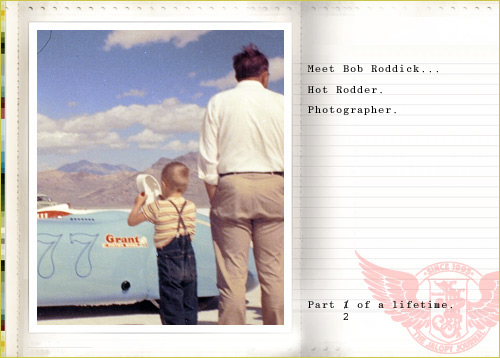 (Editor's Note: This article is part 2 of a 4 part series. Part 1, 2, 3, & 4.)
When we last left you in Part 1 of this series, it was late in the year of 1950. Bob Roddick had wrecked his '32 roadster, was in the process of rebuilding it, and was spending his free time at the track manning his trusty camera. The result was a rare glimpse into the birth of hot rodding from the eyes of a guy that was in the middle of it all.
Skip forward almost 50 years to 1999… Dave Clark had just started dating Bob's daughter Gwynn. He sat in Bob's living room trying with all his might to give off the image of a real car guy and a respectable companion for his daughter. Much to his delight, Dave passed the test and it wasn't long before Bob left the living room only to return with a dresser drawer full of old photography. Much of that photography was seen in part 1, however this story is about to get more colorful. See, in that same drawer full of black and white paper was an undeveloped roll of Kodak's finest color.
After some cajoling, Dave was able to talk Bob into letting him get that 50 year old roll of film developed. It's impossible to put into words what came back from the photo processor. "Beautiful" isn't a strong enough word. "Glorious" isn't descriptive enough. "Remarkable" simply isn't passionate enough. To people that live their lives curious about history and the lives that were lived before their own, these color snap shots represent a rare opportunity to see things a little more clearly… to see things as they were.
Back to Bob. Back to 1951. Armed with his trusty camera and that before mentioned roll of color film, Bob headed to the Bonneville Nationals as part of Ray Brown's crew. It was an incredible year on the salt and those that attended saw all but one of the records from 1950 fall. There were 197 cars entered (same size as last year's H.A.M.B. Drags) and 1,689 passes made through the traps.
The following photos came from Bob's camera. Before today, you could count the number of people to ever see them on two hands.


As amazing as these photos are, the Bob Roddick story does not end here. I had been working on the research for this article for about a week or so when I got yet another email from Dave. Gwynn (Dave's wife and Bob's daughter) had been cleaning out some of Bob's things when she found yet another batch of unprocessed film. Next week we will get into those photos as well as learn a little bit more about the man behind the camera.
Until then, I hope you fellas enjoy studying these photos as much as I have. This has been and will continue to be one hell of a ride.
68

Comments on the H.A.M.B.