Ford's Design Hero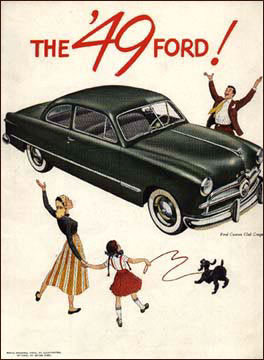 49fordSales.jpg
General Motors had Harley Earl. Chrysler had Virgil Exner. Ford had Edsel Ford?
Think about that for a bit… We all know the history of Edsel Ford and his legacy as a car designer. Put frankly, it was short and less than successful from a commercial stand point. Ya gotta love him just because he was such a car guy, but why in the hell is he the first name to pop in most minds when thinking of Ford designers?
I've decided that I'm going to start thinking of George W. Walker from now on. He started working for Henry Ford in the 30's and endured decades of bullshit as his designs were deemed "too stylish" by the company's founder. After the war, Henry II took over Ford and found a company in major disarray. To fix the issues, the younger Ford made wholesale changes to company culture. As a result, George finally got his chance to shine and the 1949 Ford was penciled.
It was a design based loosely off of the Mercury from the same vintage, but Walker wanted a less pretentious and more utilitarian feel from the Ford offering. The first and most obvious move was to shrink the car visually by not only shortening the wheel base, but by removing the bold beltline that was so prominent on the Merc as well. What remained was a slab sided car with great proportions and a classy feel.
Some folks say George saved Ford. I say he created one hell of a blank canvas that the Edsel can't even begin to touch.
Note:Desertdroog does further research here.