End Over End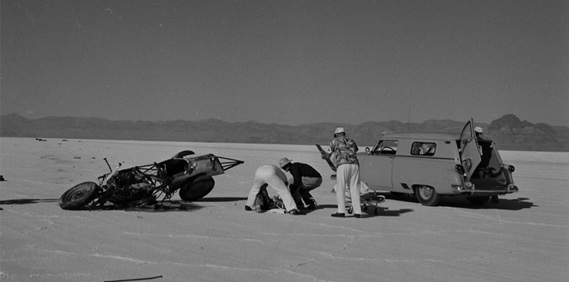 I've told this story before, but it's pertinent… And so, I figured I would tell it again. I think it was 1994 and my dad and I were busy campaigning a Lee Shepherd built Super Comp car all over the south and midwest. On this particular weekend, we were in San Angelo, TX at Wall Dragway. It was the biggest local race of the year and featured a healthy purse to prove it. As a result, teams from all over the country had invaded the sleepy west Texas town looking for both speed and money.
We picked them off one-by-one and found ourselves in the finals late on Saturday night. I was the kind of cocky that only a 17-year old can be. I was invincible and there was no way in hell I was gonna lose the final. That was certain. And so it only made sense to turn off the delay box and race nose-to-nose with the modified-t staged beside me. We'd leave together and I'd use the Reher-Morrison small block to stay beside him to the finish – nosing him at the line without breaking out. That was the plan, but that's not how it worked out.
I saw orange and lifted off the trans-brake. The front end of the car went to the sky briefly and then settled perfectly just before the 40′ mark. I ran the car hard through the 1/8th mile and then began looking back for my competitor. He was coming on, so I stayed in it. And then, all hell broke loose.
I can vividly remember something letting going in the front-end – a flash of sorts. I didn't know it at the time, but my left-front had experienced a catastrophic failure. It was such a violent blow-out that the wheel was damaged allowing the frame rail to dig into the track and act like a pole vaulter's launch. One instance I was seeing a dark west texas sky line, the next I was seeing asphalt and it was coming at me at an ungodly pace. I remember bracing myself and thinking, "This is gonna really hurt."
But it didn't. At least, not in the way you think it would. I can remember waking up a few times and being confused as to where I was and what I was doing, but I didn't have any incredible sensation of pain despite the fact that I had a broken wrist and a really screwed up spine. Instead, it felt more like a soft dream. The car had rolled end-over-end twice and then rolled in your standard "sideways" fashion another 7 or 8 times, finally resting on it's roof about 300′ past the finish line.
The first time I woke up, I was all alone and I could see the ambulance lights heading towards me – upside down. I hit my safety harness release, dropped down to the roof of the car, and passed out again. The next time I came too, my dad (a physician) was fighting with the emergency workers. "Unless you want your ass kicked good, you will get away from my son. Right. Now."
I then woke to see my dad on top of me doing whatever it is doctors do in such a circumstance. He was crying. I could see the utter terror in his eyes and I passed out again into a deep dream that seemed to last for hours. I began to reason that I wasn't hurting because I was dying. In a strange sequence of blur, my short life did kind of pass in front of me right to the point of lifting my finger from the trans-brake again. At that point, I felt an intense pain in my neck. Oddly, that jolt of pain was a relief – like waking up from a dream and realizing it was just that. "I'm hurt," I thought. "But not dead."
I didn't race again for another six months. I decided then that the crash wouldn't be my last and it wouldn't be the defining moment of my racing career. Instead, my defining moment would be the next time I got onto the track – over coming the fear and all that comes with it. I look back now and I can only imagine what I put my dad through. I'm not sure how he let me do what I absolutely HAD to do. But he did and in the process, he taught me some of the most important lessons in life.
In any case, this memory was freshened by the photos you see here. They were taken from the Life archives and feature the crash and aftermath of Fred Carrillo's last outing in his gorgeous streamliner. Like me, Fred experienced a blow-out at speed. Seeing the images makes me wonder if Fred's experience was anything close to mine. Of course, his accident was much more violent. Fred didn't have 1990's technology to protect him and I'm guessing he was clipping faster than the 150mph I was when I went over. But it's that last photo – the one with folks standing over Fred's seemingly pathetic body – that seems so familiar to me. I almost feel like I was there.
Sadly, Fred lost part of his leg. The accident, however, didn't define him.
28

Comments on the H.A.M.B.