The Bob Roddick Story: Part 1
(Editor's Note: This article is part 1 of a 4 part series. Part 1, 2, 3, & 4.)
Bob Roddick was an extraordinary man in an extraordinary place at an extraordinary time. You might not have ever heard his name, but more than likely you've seen him without ever knowing it. Bob was the young man jumping the door sill of Dick Flynt's roadster on the cover of the May, 1952 issue of Hot Rod Magazine. His daughter Gwynn remembers hearing the stories.
"My dad was hanging out with Dick that day and just happened to be sitting shotgun during part of the shoot. Coincidently, an incredibly photographic co-ed happened upon the scene as well."
Before anyone knew it, the three youngsters had created what would become the most memorable Hot Rod Magazine cover ever. If the story ended there, it would be more than worth telling. However, the Hot Rod shoot was just one part of an extensive legacy that Bob left behind.
It's a story that has never been told and one that I feel honored to even attempt to tell. Sadly, Bob passed away this past November. I never had the opportunity to meet him and he never really got the chance to tell his story in its entirety. After his passing, his daughter (Gwynn) and his son-in-law (Dave) were both determined to get Bob's life experiences out in the world for all to enjoy. It just took a tip from a fellow HAMBer and a couple of emails before I found myself mesmerized by a man that I never met and had never heard of.
Bob had two vices in life – his '32 roadster and his trusty camera. The latter has made his story come alive more than half a century after his first shutter clicked. You see, Dave and Gwynn had a pretty good idea that Bob kept an extensive photo library of his early years and began searching soon after his death. It wasn't long before they stumbled upon a shoe box stuffed with the gorgeous photography of Bob Roddick.
It all started in the late 1940's when Bob and his good pal Ray Brown got tangled up in the Hot Rod web of Southern California. Bob had just graduated from Oakland High in 1949 and finished a move south when the two got together. As the passion grew for both of them, a hobby became an obsession and a business. Ray Brown opened up a shop in Hollywood to serve those in need of speed and quickly hired on Bob. Together, they would work, play, and race for many years.
It didn't take long for Bob to get started on his own hot rod and by 1949, he was piloting a serious street roadster. The '32 featured a perfect California rake, bobbed frame horns, split bones, and a stock '32 axle. Motivation came from a Ray Brown built flathead backed by a '39 top loader feeding Halibrand's best out back. What seems like a quaint and traditional hot rod now, was anything but in 1950… This was a serious machine edging closer and closer to the cliff edge of performance and disaster.
The Roddick-Brown Special.
Of course, when your hanging-out buddies are folks like Ray Brown, Alex Xydias, Earl Evans, and Clyde Sturdy, it doesn't take much time to walk right up to that edge. By the summer of 1950, Bob was doing just that. Working out of Ray's shop, Bob put his street roadster into race form and saw speeds north of 130mph at both Bonneville and El Mirage.
August 24, 1950 - just prior to a 129.68 mph run at Bonneville. Timing tag read 'The Roddick-Brown Special.'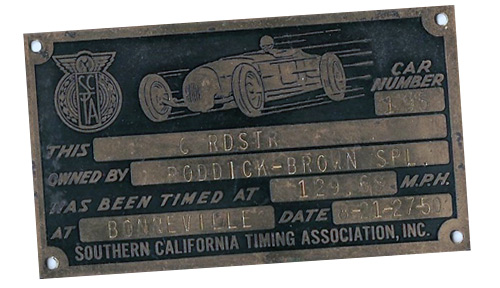 As hot as the little roadster was, Bob continued to drive the car on the street. In fact, he was on his way home from an unknown speed meet (either El Mirage or Bonneville) in 1950 when he fell asleep at the wheel and put the car into a concrete divider just outside of Palmdale, California. Bob told his son-in-law that he had been up almost 24 hours straight and simply lost consciousness. Two images appear in Bob's photo library that support the accident. One is of the roadster's body sitting frameless, but relatively unscathed in Ray's shop. The other is a shot of the bobbed frame rails twisted up violently.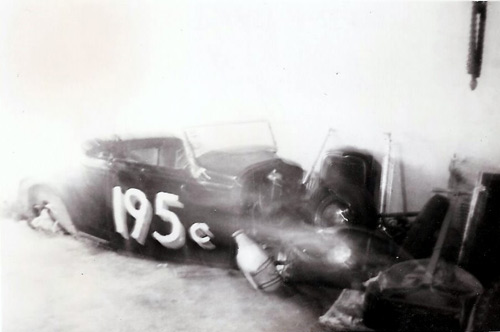 The Roddick-Brown Special sans frame.
Pretzel.
It would be almost a year before the Roddick-Brown special showed up again on any speed meet rosters. And it's this period from late-1950 to mid-1951 that Bob's talent as a photographer began to really progress. It seems as though Bob's misfortune on the track gave him time to work his camera and shoot his passions. His loss has certainly become our gain…
The following black and white images come from the loving eye of Mr. Roddick. Outside of the Roddick family, these photos have never been published.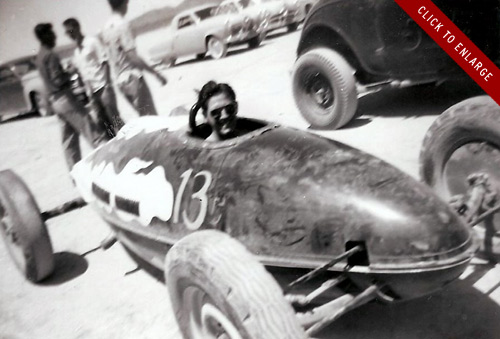 The Ray Brown lakester in 1950.
It's unclear who the two young ladies are, but the recapped rubber up front hints that this is once again the Ray Brown lakester. Note the WW2 surplus steering wheel and seat back. It appears as though Ray is checking the tire pressure of the driver's front.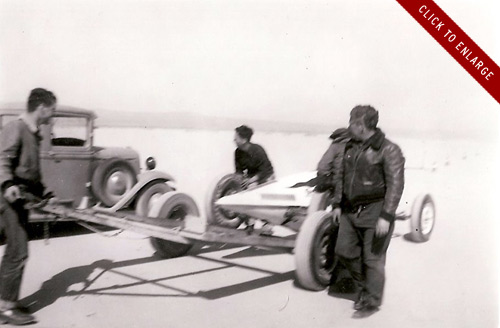 Ray's lakester is rolled off the trailer. I love the simplicity of this shot... Not many folks on the flats in 1950.
Same trailer, but different race car. I believe Bob took this shot a year earlier of the Ray Brown Automotive '27 T. Few people in this world are ever lucky enough to be as cool as the guy behind the wheel of the tow vehicle.
Ray Brown and his crew wait in the staging lane.
The crew attends to the '27 T after a run. Ray first ran the T at Bonneville in 1948. The rear flathead powered car ran a two-way average of 134.12mph.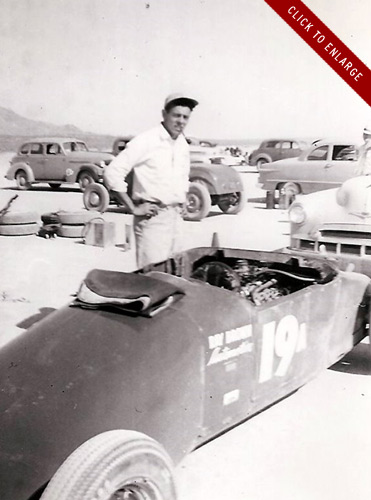 A good shot of that rear mounted flathead. This setup would inspire Ak Miller to build his recording holding rear engine modified just a short while later.
This is one of my favorite shots of the bunch. It's rare to find old photographs of interesting subjects. It's even more rare to find old photographs taken by someone that knew what they were doing. Bob's photos consistently show his good eye for composition.
The 13c car sits out in front of Ray Brown's shop. We will be hearing much more about this car and its driver in later articles.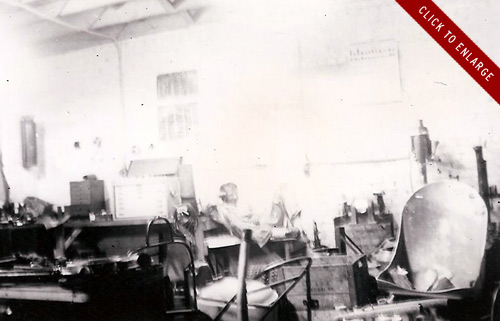 It looks as though technology failed Bob on this blurry shot, but how rare is a photo of the inside of Ray Brown's shop? If you look closely, you can see a shop member lounging on a work bench.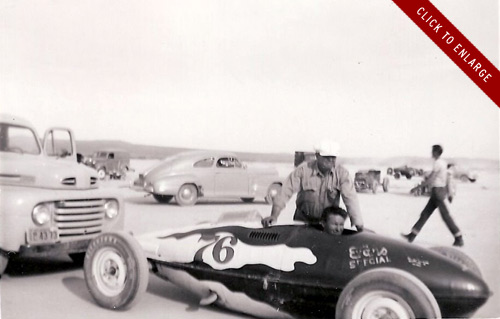 The Earl Evans Special ran closely with Ray's lakester in both appearance and mph. In 1951, this lakester ran a 183 to the famed SoCal lakester's 178 and set a class 'C' record. The 296-inch Merc flathead was as healthy as they get.
I've spent hours upon hours trying to identify all of the cars in Bob's photo library. The 197 car is one of just a few that I couldn't locate. In any case, this crowd sure does seem to agree with the car. EDIT: Thanks to the legendary Don Montgomery, I am not comfortable enough to say that the 197 car is actually the same roadster as pictured above (numbered 13c). It was owned and driven by Mal Hooper.
How often do you see new and different angles of the SoCal streamliner? Dean Batchelor and Alex Xydias shared one of the most beautiful cars that ever ran on the salt. Valley Custom did the body... It was the fastest car on the salt in 1950.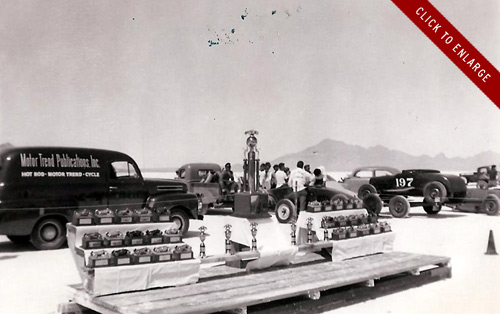 Trophies meant more back then. Ohh... and there's that 197 car again...

As you might imagine, I flipped when the above images landed in my inbox. There is something simply magical about seeing photographs like these for the first time. Little did I know, these shots were the tip of the iceberg.
To be continued…
60

Comments on the H.A.M.B.