Early Ford Thunderbirds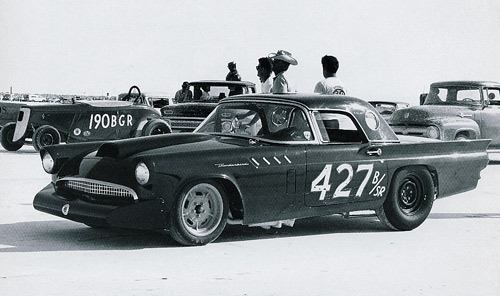 I'm just gonna put this out there… I've never liked the 1955 to '57 Thunderbirds.  It's not that they aren't pretty little cars – they are. It's just that I don't like the intent in which Ford built them. Chevrolet came out with America's first sports car and the Europeans snickered under their breath. In an effort to compete, Ford brought out the Thunderbird and the Europeans busted a gut. Ford called it a "personal luxury" car, but everyone knew what they wanted it to be… And the Thunderbird's performance didn't live up to the idea.
That aside, there are a couple of vintage examples I really love. The first is Doane Spencer's rarely photographed and rarely mentioned '55. It was built to be a street cruiser, B-Ville streaker and a road course straightener and did all in style with a slammed stance and Halibrand knock-offs. I searched the world over for an image and couldn't locate one. If you've got the goods, post it as a reply.
The second was very similar to Spencer's car and another street driven B-Ville car. Joe Walden's '57 (pictured above) featured a 427-inch Mercury motor lifted from the NASCAR program. This big dollar engine allowed Joe to drive the car almost daily on the street as well as run over 200 mph on the salt. It's all business and hence the love affair on my part – aggressive hood scoop, front air dam, perfect rake, and a set of perfectly proportioned wheels and tires.
I bet the Euro guys weren't laughing at either of these beasts.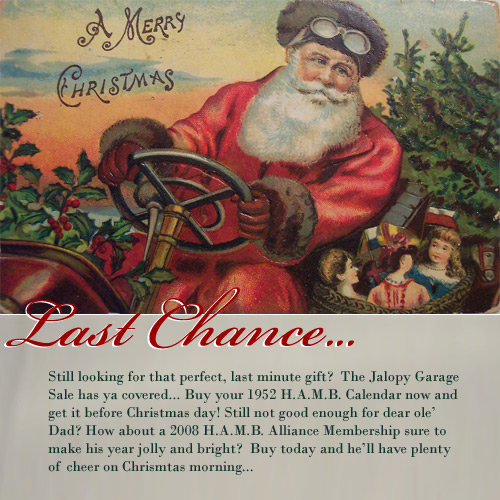 150

Comments on the H.A.M.B.