The 2012 Lone Star Round Up: Part 1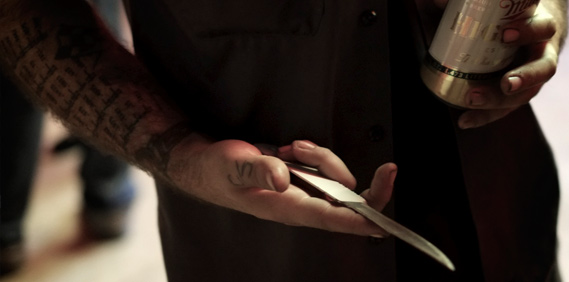 There is no sympathy for those in search of trouble… and I was one of "those" this weekend. See, my typical Round Up weekend is almost entirely focused on work. So much so, that I usually don't have the vigor for grand partying after hours. Aside from a visit or two to the Continental Club, I most often hang my hat early, exhausted. This weekend, however, was different as the Cochran household featured a special guest – the Heidelberg Hoodlum.
You know him as Ben Thomas and the proprietor of Rancho Deluxe in Melbourne, Australia. He flew in last Thursday and has been our guest since. His presence put forth an obligation of sorts – One way or another, it was my job to make sure that Ben and I found some trouble. Too hell with sympathy, there was fun to be had and I couldn't let exhaustion get in the way of that. And as entertaining as all of this might sound, I'm not sure it would be prudent to list that trouble here.
For instance, you people might totally freak out if I described the circumstances that lead to "the Hood" and I sitting in the same hot rod as Garth Brooks and his gay lover while being passed by a motorboat… ON SOUTH CONGRESS. No. That's too much for this crowd and I get that now. I've had my losses and I've learned my lessons.
So instead, I'll focus on the insanity that hits Austin, Texas every year at about this time. There's a huge body of evidence to support the notion that me and large scale car shows were put on this earth to do completely different things and never mingle professionally with each other, other than at the Round Up, when we all drink heavily and whoop it up like it's just the natural thing to do. It's as if, despite our differences, the city of Austin pulls two opposites together and magic happens in one way or another. I've tried to explain it in the past, but I've never been very successful. Somehow, the Lone Star Round Up just works…
Admittedly, most of my show time this year was spent stuck in the booth. My better half (and chief booth officer) was at home on a pregnancy leave, so I ran the joint on my own. This left me with very little time to actually walk around and study cars. In fact, I only got about 45 minutes to search out the 2012 Jalopy Journal pick. But in that short period of time, I saw some pretty incredible shit – the Sam Barris Merc, the Gary Howard collection, a recently discovered Rod & Custom cover car, and many others. Even so, it really is the after hours that sets the Round Up apart from any other show in the country. And this was the first in many years that I actually took advantage of all that due to my guest of honor and our quest for trouble.
On Thursday night, we lounged at my shop in the country and threw back just enough beverages to make waking up early on Friday morning a chore. Friday, of course, was a show day and I worked the tent with the enthusiasm of an autograph seeker waiting in queue at the ASS booth. I was exhausted when it was all over, but was determined to show Ben a good time and headed to the Continental Club to see Southern Culture On The Skids and Wanda Jackson. It was so much fun that we over extended ourselves and stayed out past any kind of a decent hour. Saturday morning was early and rough… Even so, I fought off the demons from the night before and had a fine time running the booth and just pretty much enjoying the show. Saturday night is always the blow out night. I knew what was to come.
Ben and I hit the Austin Speed Shop and their annual party after a mighty fine burger in the burbs. From there, it's pretty much just a blur of doughnuts, smoke, and… Again, I better not get into the trouble. You people don't know trouble. At least, not like the Heidelberg Hoodlum and I do… and I'd hate to overwhelm you with the dirty details. Plus, I don't want your sympathy.
In any case, I'm late as it is getting this post up. Sorry for that… I'll have more for you tomorrow.
Special Thanks:
1. Steve, Brian, and Will. These guys spend half their weekend thanking everybody else for help. BUT, let's be honest… These three make everything happen and are responsible for every bit of fun that goes down. Good people. Great pals. Family.
2. Ben, Garith, Sam… The Aussie trio gave me breaks when I needed them and helped me setup and tear down my booth two days in a row. News pals are always good to have… I love these "blokes."
3. Doc. For always being so damned generous with his raffle. The man is some sort of a saint – I swear it.
4. All of the folks that dropped by the booth. Thank you. Seriously.
37

Comments on the H.A.M.B.