The ten Most Beautiful cars of the 1930s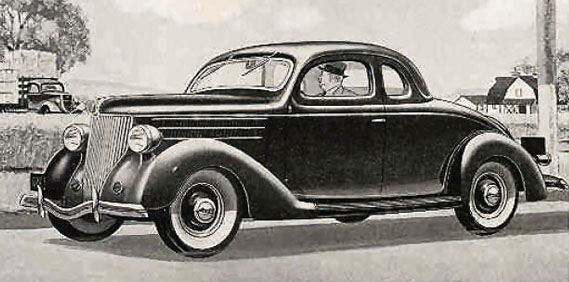 The 1930s were a very special decade for motoring in America. Despite starting out in the Great Depression, it was a time of massive improvements in terms of automotive engineering, quality of roads (WPA projects), and most of all, a huge leap forward in style. Aerodynamics, Streamlining, and Art Deco all collided into beautiful sheetmetal shapes. War was looming, but Europe was having an influence on our designers as well, with rolling sculptures from Alfa Romeo, Bugatti, Talbot, and Delahaye making headlines and turning heads around the world.
So what were our best efforts from that prewar decade? Sure, the 1932 Ford comes to mind, and as well it should. Henry's little Deuce was like a mini Packard with a jewel-like V8 to match. Edsel and his design team had finally taken styling far beyond the stodgy Model T of just 5 years earlier. But, if you had to choose just ten of the most beautiful shapes for that entire ten years of 1930 to 1940, what would you go with? Here's what  I've got as of today:
1939 Lincoln Zephyr Coupe- Graceful streamlining at it's best. Any car that looks like it's moving at high speed when parked is a success in my book. The dash is a winner too.
1939 Ford Deluxe coupe or convertible – Clean, smart design, and I personally like the flush glass headlight more than the '40 rings. That's just me.
1939 Graham Model 97 convertible- Wild headlights and grille treatment made the whole car lean forward like it was trying to break the sound barrier sitting in your driveway.
1936 Cord 810- Hidden headlights, ribbed grille flowing into the fenders, flush taillights. Gordon Buehrig design genius.
1936 Ford 3 (or even 5) window coupe- It's an obvious sweetheart around here, as well it should be. What a looker.
1935 Auburn 851 Speedster- Buehrig strikes again. Supercharged, super beautiful. Worthy of icon status.
1933-34 Deusenberg J Roadster. Big, bold, and build like a steel mansion on wheels. Many of the custom bodies (Murphy, Bohman and Schwartz, etc.) had severely chopped windshield and low ride height.
1934 DeSoto Airflow coupe- Polarizing design, yes. But also radical, and potentially game-changing if anyone would have bought them. I think Airflow's are really cool, and the rare, short wheelbase coupes get bonus points with me.
1933-34 Graham Blue Streak coupe- Killer split front bumpers, grille, and a mean looking beltline. Works for me.
1933 Lincoln KB Victoria Coupe- My dad had a 1934 KA Roadster, but I would say this particular coupe had the most graceful and yet tough looking design of the whole line up- Like a '33 Ford Vicky on steroids. The good kind.
92

Comments on the H.A.M.B.