A Golden Ticket
Nagging guilt has finally won over procrastination, and for whatever it's worth, here is communication or at least a reasonable facsimile of what my attorney and I have been up to the last few days here in Melbourne.
Before I got to Australia, I imagined sitting down every evening and penning up a quick letter home with news of our happenings. Those letters would become my posts and, with any luck, your entertainment. It hasn't worked out that way. Instead, the days have bled into the nights.
It's as if our energetic momentum from a fresh morning start has carried us right through to the evening and then on to the early morning where hedonism rules. Who has time to write when there is so much trouble to get into and such a bad reputation to uphold? Not me. And certainly not Blakey Boy.
Anyway, we finally fended off the demons and got some sleep the other night. Which was well planned as Thursday was a big day with a bigger night. We cruised downtown and costal Melbourne in Mark's '33 Phaeton for much of the day and then retired to our Australian headquarters for more than a few games of pool. We closed down the bar at around 3am.
The official Jalopy Journal Staff Car actually belongs to our host, Mark Thompson.
Friday was really the first day of the three day span that is widely responsible for our visit down under. The River City Coupe & Roadster Club has been planning their first-annual reliability run for over a year now and Friday night marked the kick-off with a classy party. It was a wholesome affair held at an elementary school only blemished by my own attendance and my attorney's photographic stunts.
See, Blake has this habit of taking portrait shots of people that he meets in various social settings – then, showing his subjects the portraits on the small LCD screen located on the back of his camera. These photographs often appear to be vile renderings of strange monsters loosely resembling the original subject as Blake uses an extremely wide lens that often distorts the size of a person's nose relative to their face. As a result, he was regarded with angst and contempt by nearly everyone who'd seen or even heard of his work.
I tried to run damage control for a while, but soon came to the conclusion that I was getting nowhere and quickly began to figure ways to create distance between myself and my fellow Texan. He was on his own as we attended a beautiful pot-luck held by the host club as well as a driver's meeting of sorts. During the event, the River City boys somehow looked past my traveling partner's digressions and honored us both with a set of incredible posters created by our own " Jimmy B."
At this point, it was becoming pretty obvious that the Aussies had given up on the "two yankees" as being hardened hot rodders and thought of us more as "lovable losers" who drank more beer than they did fuel or oil. To throw them off our scent, we went straight home and into bed early on Friday night.
Saturday morning came early. We were off to the start of the first annual River City Coupe & Roadster Club Reliability Run by 9am – an early hour for both my attorney and me as proven by past unrest.
In any case, about 35 traditional hot rods met at a "car park" located just outside a small airport on the outskirts of Melbourne. As each car rolled in, I became more and more impressed with the quality fielded. We were over 8000 miles from home, yet I was attending a traditional reliability run with cars every bit as good as a top-flight show back home. Aussies roll hard and I'm here to tell the story…
At around noon or so, I hopped in a familiar car and prepared for reliability. See, club member Kenny recently bought and shipped over Chris's old banger powered a-coupe from Washington state. I had sat in the car at the Round Up in Austin, TX not long ago and now here I was – sitting in the same car in Australia. My mind reeled like an abuser's until we hit the road and began to see the sights brought on by a brilliant choice of routes.
That said, I've got no idea of where we were or where we went and that's not due to any kind of trouble brought on by myself or my attorney. We are from Texas and while we had certainly figured to be amongst our kind of people, we still (and still don't) have the faintest idea of where a damned thing is in the state of Victoria. All I can tell you is that we drove through some gorgeous country that included perfectly proportioned rolling hills, mountains, recovering remains of horrendous bush fires, wine vineyards, and precious small towns that just pulled at you to stop.
Kenny and I had no time for that kind of tourism, however, as we had a reliability run to attend too. We drove hard through someplace called Yarra Glen and stopped only to have our card stamped at a check point. From there we went through a glorious little town named Lilydale and over some mountains that everyone was calling the Dandenong Range.
At some point amongst the fury, there was a second checkpoint where we grabbed a quick sandwich and regrouped, but it was focused and quick… "like a bunny." In fact, we kept up a pretty brisk pace until we reached the basin of the Dandenong Range and the completion of the run – located on an amazing piece of property owned by an incredible guy named George Hetrell.
George is a life-long car guy with a passion that matches any. His collection included an incredibly rare Bugatti that he still races as well as numerous other cars from other genres. His success was realized in the candy industry. Hearing that, I began to think of him as Willy Wonka… and we had the golden ticket.
Willy Wonka's Chocolate Factory was really the perfect ending to what was a picturesque run. The scenery was better than any run I've ever been on and the cars were incredible as well. In fact, I can only think of one that didn't finish despite the fact that the field included many bangers, tons of flatheads, and a largely traditional feel.
Even so, it was the details that stick in my mind – the little stuff that makes you smile and forget about the debauchery of the night before or the ensuing headache that comes from fun and fear. Examples are easy to list… There were all of the homemade meals for participants, the handy packets featuring photographs of all the cars in the field, the handmade and stamped timing tags (by Tom & Dean), and even the thought to include a tow truck at the back of the pack – just in case. Go big or go home… and I'm still here.
Of course, right in the middle of all this frenzied action I got handed more surprises. First, the River City boys asked me to hand out awards for best open and closed cars. I even spoke, admittedly briefly, in front of all the folks in attendance… only to be shown up by my much smoother and more coherent attorney as he gave out his award. Squirely bastard.
Best open car went to Ben Thomas and his black roadster. You'll hear much more from me on this car soon.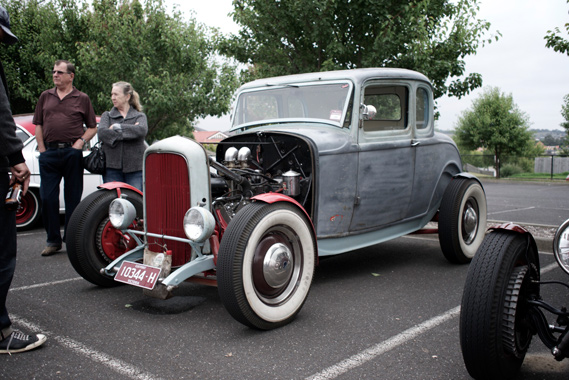 Best closed car went to Chris McClelland's survivor coupe.
The Blakey Boy Esquire pick went to Zac Wright and his model-a coupe.
And then, just when I thought it was all over, the fellas from the Vulture Car Club presented me with another honor – a copy of a brilliant hardback book covering the adventures of the club in Tasmania. It was produced by the disgustingly talented and yet very proper Luke Ray of Fuel Magazine. The sap shown here doesn't come from over indulgence of any kind, but full-on appreciation. Blake and I have been treated like Kings here in Australia by not only our host, Mark, but by everyone in the River City Coupe & Roadster Club and everyone that attended the run. Either we have them fooled to a degree unknown on prior adventures or we have found yet another group of fellas to call our own.
But never mind all that. I'm saving all of the thanks and accreditations for a later post. We still have 5 days left in this country and plenty of plans for trouble. Stay tuned back home – Blake and I won't let you down.
Gone for now,
RHC
Of course, Blake had his camera in hand as well and got to work out classing me in every way… Here's a few I picked out while he sawed some z's on the other side of the room:
73

Comments on the H.A.M.B.