The something-millionth Ford
The familiar question pops up from time to time about why seemingly 99% of pre-war hot rods were Fords. There are few theories about this, ranging from the simplicity of the archaic transverse leaf suspension and ladder frame, to the ease of hopping up Henry's A & B 4 bangers, and eventually V-8 motors. I think the true reason really boils down to sheer numbers of cars Ford built from the 1910s to the 1930s; millions of Model T and Model A Roadsters, Coupes and Touring/ Phaetons were cranked out at a dizzying pace from factories all over the US and around the world, with over 20,000,000 cars produced before the 1932's were even introduced: 1915: 1 millionth, 1921: 5 millionth, 1924: 10 millionth, 1927: 15 millionth, 1931: 20 millionth, 1937: 25 millionth car.
Along the way, Ford tried to acknowledge these 'million car' milestones, but at the rate they were going, who can blame them for missing a few?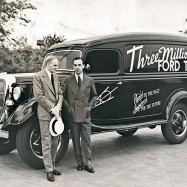 15

Comments on the H.A.M.B.