Like Father, Like Son: The Hot Rod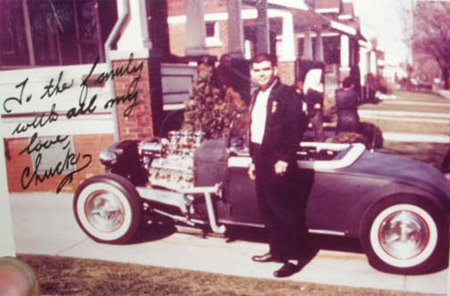 So it was 1968 and he just got news that he was going to be a dad. I know that feeling. It's absolute uncertainty.
Do I know what I am getting myself into? Is this a mistake? Am I going to be good enough? What is this going to do my life?
Of course, nine months later none of those questions were even relevant. He was a dad and he had a son! Having been through that experience, I know that nothing else much matters past that point. Hell, this guy's hot rod became so irrelevant that he threw it in storage and let it sit. I can't blame him.
But Hot Rods never die and Hot Rodders are born every day. It's now 2006 and the subject of that life changing news is now the hot rodder in question. New user "vintagesurvivor" is restoring his pop's old hot rod and he's doing it the right way – '54 Olds 324, early Hydro, correct interior, correct color, etc… It's a perfect example of what the car culture really means to those folks that are so personally invested. Hot Rodding is just a part of life.