The Quiet Kustom: 1962 Pontiac Grand Prix
The 1962 Pontiac Grand Prix was one of the first in a long line of GM's "Personal Luxury" cars, much like the better-known Buick Rivera that would premier one year later. The GP was introduced as a lone hardtop model, based on the short wheelbase Catalina platform but available with bigger engines and many more options. It featured Pontiac's all new for '62 'straight lined' styling along with Morrokide-covered bucket seats, and a killer, full-length center console with tachometer. The Grand Prix also showed tasteful restraint in the exterior design, with very little flashy side trim, except for a lower rocker molding. The classic split-nose featured a fine-mesh grille design, topped with the classic checkered flag badge. The rear panel treatment was also unique to the GP, with a full-width molding that shadowed the front grille's design, right down to the badge. The Grand Prix also could be fitted with Pontiac's tough-looking 8 lug wheels, and was available with either three or four speed manual transmission in addition to the floor-shift automatic.
The standard engine was a 389 cid V8 4 barrel rated at 303 horse, but you could tick the box for a Tri-Power 318 HP option or step up to a 4 bolt main "Trophy" motor with a hot cam making 333 or 348HP with the 3X2 set up. (A mere 16 Grand Prix's escaped the factory with 421 Super Duty motors kicking out an amazing 370 horsepower!) Overall though, this pre-muscle car was about subtle power, and a rolling, understated class, which it had in spades. Pontiac sold over 30,000 of them the first year making the little GP an instant success, and paving the way for the aforementioned '63 Riviera, the '66 Oldsmobile Toronado, and the '67 Cadillac Eldorado.
In my opinion, not enough of these particular Poncho's were made into the custom rides that they look so good as. The Richard Zocchi car comes to mind, but not many others… And there isn't much to de-chrome on these babies- You just need to get it low, shave some random bits and shoot some fun colors to get a really sweet mild 60s custom.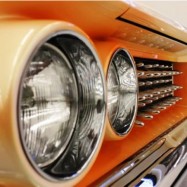 106

Comments on the H.A.M.B.