The 1952 Carrera Panamericana
The Carrera Panamericana was a 1,990 mile border-to-border race event held on open, pubic roads in Mexico similar to the Mille Miglia and the Targa Florio over in Italy. The original event was raced yearly from 1950 to 1954, and was considered by many professionals to be the most dangerous race of any type… In the world. It was an instant success, and racers all over the world from nearly every racing discipline (Grand Prix, Rally, NASCAR/ stock car, endurance racing, hill climb, and drag racing) were all gunning for the large cash prize. Because the race started near the Texas border, it was especially attractive to many American teams, and even the Detroit manufacturers wanted to get in on the action, sending down race-prepped factory cars from Lincoln, Cadillac, Olds, Hudson and more. Hot rod heroes like Mickey Thompson, Clay Smith, and Ak Miller all took up the challenge. The entrants took a real beating, as the crude Mexican roads were often rocky and extremely rough, resulting in brakes, suspension parts and cooling systems failing in spectacular fashion. Even worse, there was no real safety measures in place along the treacherous race roads, so a wrong driving maneuver could result in serious injury or death- And it often did.
1952 was a year of particular note for this event, as it was finally divided into two classes separating 'sports cars' from 'stock cars', thus allowing the big American Lincoln Capri's a fighting chance to take home a win against the prevailing Mercedes 300's. Watch this film (in German) just for a flavor of how crazy and hard this race truly was: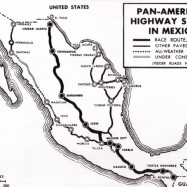 19

Comments on the H.A.M.B.