1956/57 Lincoln Continental Mark II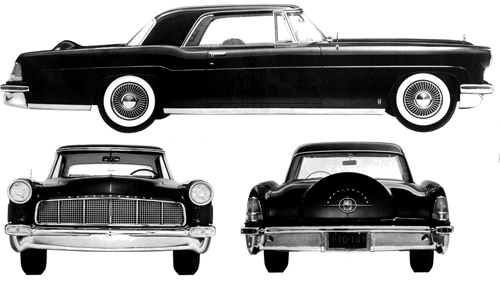 The other day someone asked me a simple question.
"What's your favorite 50's era FoMoCo body style?"
Oddly, I couldn't come up with an answer right away. Shoebox Fords and 49-to-51 Mercs are on the top of everyone's list including mine, but they don't really fit into the mold of a "50's era" car. I include them more with the post-war "euphoria" era than I would the era of the big 1950's boats. That might not make sense to all, but it does to me.
It wasn't until I sat down later and really thought about the FoMoCo offerings that I came up with an answer. After which, it seemed so obvious…
The 1956/57 Lincoln Continental Mark II was produced by Ford's then new Continental Division. Technically, it wasn't a Lincoln. It was a Continental. And the idea was to sell not the most powerful car in America or the roomiest, but the most sophisticated. It was to be America's Bentley.
The design team forgot about the then current trends of stainless appointments, fins, and huge bodies. Instead, they focused on good clean design that spoke about sophistication through simplicity. If it didn't make the car smarter or more comfortable, it wasn't included in the car. The end result was something obviously American, but with a hint of European sensibility to it.
None of this came cheap though… The Continental stickered for around ten large and even at that astronomical mid-50's price, Ford was losing almost a grand a car. The loss was written off as good marketing by Ford who loved the idea of Sinatra and Presley driving around in their flagship. Still, the Continental only made the market for two years – '56 and '57.
Considering the path and the historical insignificance of the Continental, I guess it's pretty easy to argue that the car was a failure. I wouldn't speak against you, but man… do the car's lines speak to me. That long hood line that flows back past the passenger compartment and peaks up subtly at the b-pillar couldn't be more elegant. And, that front end… It winks at early t-bird designs but pulls it off much more confidently.
My only complaint is the continental deck lid. Sure it's the car's namesake and all, but I would love to see it shaved and the deck cleaned up a tad. Customizers?
214

Comments on the H.A.M.B.