Von Dutch did more than pinstripe…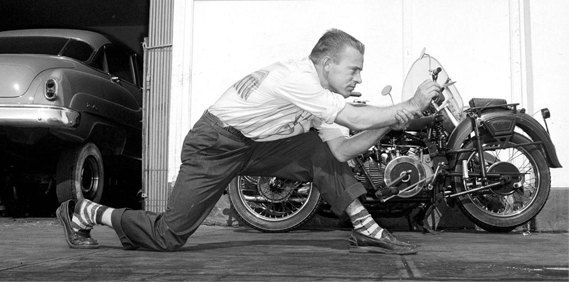 And most of you know that. Dutch was a man of many talents, but first and foremost he like to create things completely by hand. Beyond his paintings, drawings, signs, and famous pinstripes, he did amazing metal work as well. Sculptures, toys, belt buckles, and elaborate guns were among the items he would weld, grind, engrave and craft by hand. In the mid Eighties, a really good buddy of mine (who is on the HAMB from time to time) went to visit the famous hermit that was living in a trailer at Brucker's  'Cars of the Stars'  lot in Santa Paula. Dutch was still busy striping motorcycles, machinery and anything else he could get his hands on. That day he was also making personally engraved knives. $250 was a TON of money for him at that time, but my friend had the strong suspicion that this was a special deal, and besides he noted that the "Price of the knife also included unlimited access to his beer-stocked refrigerator… several stories, and reprimands to the buyer for not knowing insignificant details about certain extinct marques of Eastern European motorcycles." Classic Kenny Howard.
*Note: This particular Von Dutch knife has never been photographed or published before today… A HAMB exclusive, if you will.*
43

Comments on the H.A.M.B.