The 2011 H.A.M.B. Drags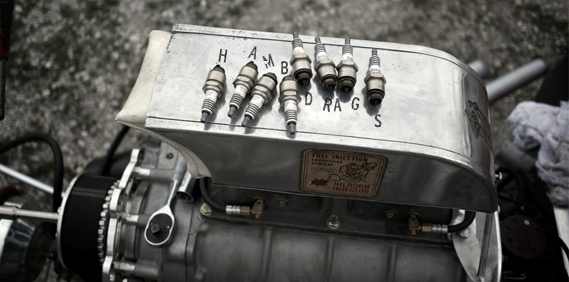 It's hard to believe that we've been hosting this gathering of misfits for nine years now. We've come a long damn way, but yet I kind of feel like we've come full circle. The first event was small, personal, and laid back. The next few matched… And then things got crazy, unwieldy, and out of control for a few years. It was as if I was a high school kid throwing a party and the word got out to other schools. It wasn't long before the party turned into mayhem and while that kind of action is always fun on a certain level, you walk around knowing that it's just a matter of time before something goes horribly wrong.
Two years ago, we decided to control things a bit by only allowing pre-registered cars. That allowed us to keep the car count under 200 as well as control the quality of the cars in the field. This year, we did the same thing only we were a little more choosey with the cars. It worked. The H.A.M.B. Drags are laid back and personal again. This is my kind of event.
There were other changes as well. Unbeknown to me, Ryno and Carl got together a day before we arrived and roped off an area at the track for vintage spectator parking. I had always wanted to do this, but never really had the resources to do so. Ryno took charge and just got it done. We didn't bother monitoring the cars for "traditional" style or anything like that – we just provided spectator parking for fellas that wanted to drive their old cars out. Although we might change it up a bit next year, I think it worked pretty damned well.
On top of that, the fellas at MoKan really went over the top with preparation this year. They mowed something like four extra acres for parking on both the pit and spec side and the old joint was polished up with spit and sweat. I don't know that MoKan has ever been greener or cleaner… It looked like 1958. Really, it did…
But what about the racing action?
I rarely get a chance to watch any drag racing at the H.A.M.B. Drags, but this year I made it a point to do so. I sat in the grand stands for a solid 45 minutes and my elbow didn't touch a single ass. I could breathe… and the racing action was fantastic. The two most memorable runs for me:
1. Kerry in his freshly built Dragmaster… I got to watch a number of his runs and was nervous as hell for him. That car sounded like a heartless killer with no regard for anyone's sensibilities. And of course, this was Kerry's first real attempt to harness that thing through a quarter mile. It was a blast watching (and hearing) him feather the throttle on and off as he spun those old hides all the way down the track. Once both driver and car are broken in, that thing is gonna fly.
2. Later in the day, I sat down to watch Don Moyer and his Willys go up against Jeff Beck in the Seven Deadly Sins coupe. That pass might just go down as one of the best in H.A.M.B. Drags history. Off the green and on the throttle, both cars seemed to bunny hop off the line with all fours defying gravity. As Don more or less bounced his front-end skyward, Jeff's went straight up like a wheelie car looking to collect applause. Both cars pointed at one guard rail or another at some point, but neither let off the go pedal. It was awe-inspiring… That's drag racing fellas.
Of course, there was plenty more where that came from… Anytime you put those crazy bastards from St. Louis on a drag strip something fun is bound to happen. Every one of their runs proved that point. And how about the fellas that rolled out from California? The Purple People Eater took $20 from me, the Willys was nose high all day long, and that little '32 sedan was one of my favorite cars at the event.
Some folks say drag racing is impossible to spectate. We proved them wrong fellas. The 2011 H.A.M.B. Drags was full of incredible runs performed by guys simply unwilling to lift. This is, without doubt, the best traditional drag race in the country. I don't say that as a promoter, but as a guy with a passion that runs deep.
I wish I would have taken more time for photography, but I knew there would be great coverage on the H.A.M.B. In any case, here is what I got:
Special Thanks:
1. Blacktopbuddha (otherwise known as Bill) ran the Alliance Auction. He worked his ass off all weekend and raised over $5000 for charity. It was pretty inspiring fellas… And we all owe Bill a slap on the back.
Typically, this charity dough goes to members in need throughout the year. I'm sure that traditional will continue. However, we really want to do something for Joplin this year. The worst part of my weekend was touring the tornado damage and I really feel like we need to give back in one way or another. We are gonna make that happen.
From the bottom of my heart Bill – THANK YOU.
2. Ryno. I don't even know how he became a Drags volunteer. I thought he was a saint before, but… Damn… It's as if he just appeared and got to work helping us create one of the best drag races of all time. I'm still confused, but certainly more thankful. Ryno is one of the most selfless people I've ever met. Period.
3. Blake and the Yay-Hoos. The Yahoos give one of the most sought after awards at the show and, of course, we consider them all great pals. On top of that, Blake helped us with one of the most miserable jobs at the strip – running the front gate from 8am until noon or so. Thanks for the help, the Yay-Hoo Cup, and your presence – you guys are a big part of all of this.
4. Carl and the MoKan Boys. The Drags wouldn't work without a great track and a track owner that gets it. We are all pretty damned lucky to have Carl and MoKan on our side.
5. Sodbuster. Chris brought me BB's Lawnside BBQ from Kansas City again this year. If you've never had BB's, you've never had BBQ. It's the best in the world and one of the things I miss most about KC. Thanks to the Nelsons I get to relive it a bit every year.
6. The family. Marcie, Holly, Jill, Dan, and Katie… Most of you know them. They've helped me run the drags since year one. They literally make this event happen. I love them all for so many other reasons.
7. The Texans. My friends have always made the long trip up to Joplin to support me and it means more than they will ever know.
8. Kevin Lee… Damnit, he should be a Texan!
9. The Secret Society Of Rocket Level Racers. You know who you are. Epic.
10. Everyone that attended the Drags this year and have in the past. You guys have built something pretty damned important to a lot of folks.
I'm sure I missed someone… Confident of it. I'm so thankful… so tired… and so ready for some sleep. Tomorrow, I will catch up. Promise.
98

Comments on the H.A.M.B.