Modern Hot Rod Comics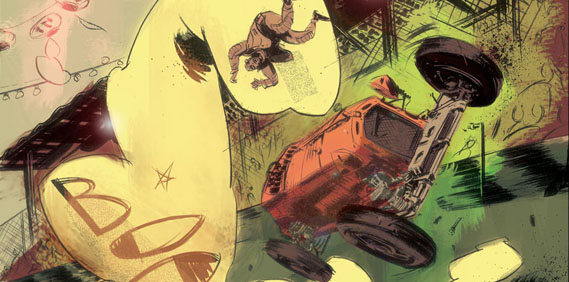 There's been a few great posts about classic hot rod comic art, but it's interesting and hopeful to see that the traditional hot rod is alive and well in modern comics too. In the afterglow of Comic-Con 2011, I was turned on to three great comic artists that are using the iconic 20s and 30s coupe and roadsters (with a few mid 50s Chevy's thrown in) to tell gritty tales of racing, wreckin', and world domination.
The first set is the explosive track tales of Rodd Racer by Toby Cypress, a life or death duel at the Thunder Alley Rally. Rodd Racer #7 vs. Drag'on car #13 with an evil and secret plot to kill them both!
Next up is Strange Science Fantasy by Scott Morse (a friend of mine who just built an Olds-powered A coupe with his Pops), which shows the mastermind 'Head Light' ready to outshine the Gearheads of old…
We end with Showdown by Tony Guaraldi-Brown, a post-apocalyptic zombie race to raise hell on earth! Light on text, heavy on the dark, grinding metal. He's got T buckets, roadsters and grim Lincoln Continental thrown in for good measure.
………….
13

Comments on the H.A.M.B.