Dean Moon's Moonbeam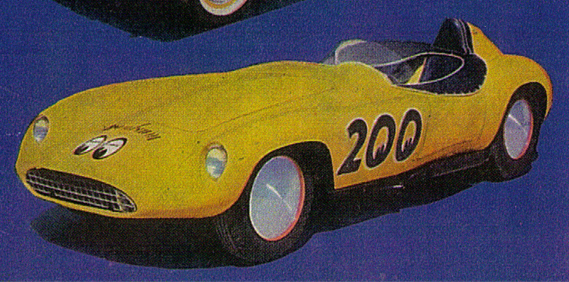 Dean Moon's Moonbeam was a Devin-bodied sports car special that made big trouble at drag strips and on the salt. Although sports car racing classes were still fairly new at the drags and on the salt, the secret was hot rod simple: Take a very light car (fiberglass, under 2000 lbs.), and add a powerful and efficient (yet not gigantic) motor, like a 354 c.i. SBC bored and stroked, with a 6-71 blower and a Potvin manifold and Hilborn injection good for 600 horsepower. The seamless tube chassis took its cues from drag racing and everything was laid out for simplicity and easy access, including snap off doors and removable front clip. The low, streamlined body had minimal wind resistance, aided by dropped axles and a driver's seat placed down on the sunken floorpan. The result? 1959/1960 drag strip records at Henderson, Pomona, Riverside, and San Gabriel. Then Moon set Dry Lake racing speeds of 169 plus, and by the 1961 Bonneville time trials, a new B Sports Racing class record of 189 was achieved with Mark Dees at the wheel (up from Dean's '59 and '60 Bonneville runs of 169 and 174).
Nice work, Dean…
………..
16

Comments on the H.A.M.B.