Ranche De Tardel: Day 3
So when I left you last we had just finished what Mr. Tardel calls a "backyard" rebuild on a 1940 Ford flathead. See, Vern builds some of the baddest flatheads on the planet and he stooped more than a little bit to teach me a thing or two… or ten. It's been nothing short of amazing to work along side him as he spits out tid bits of history and technical tricks. Arriving at work this morning, I half figured the lessons were over and it was back to sweeping floors for me. I was wrong.
Turns out the motor is destined for an old shop truck with some pretty significant history. The '36 Ford truck has been in the Tardel family for generations. In fact, it was in this very truck that Keith learned the finer points of clutching and shifting at a really young age. The motor that was in it has ran untouched since that simpler time, but has just recently started to knock in agony.
The fact that I was around to help with the rebuild was just a coincidence, but it's feels pretty damn cool to have a hand in it. The motor that I cut my flathead teeth with is now going into the truck that my best pal learned to drive in. It's poetic to a sappy guy like myself.
However, there was no time to sit around and think about poetry this morning with all the work I had in front of me. This little truck needs to be running by Thursday night and there was plenty of prep work to do. My first chore was to strip the old motor out. This sounds like and most likely should be a two hour job, but some stubborn exhaust manifold bolts made that time frame unrealistic.
After a few hours of struggling, Vern got out the torch and craftily cut the manifold out. I then showed my "shop bitch" level of experience by forgetting to unbolt the truck's chatter rods before attempting to hoist it out of its bay. Embarrassing. Once figured and laughed at, the motor came out as smooth as butter.
The rest of day was spent prepping the new rebuild to go into the truck. The Tardel ranch is stocked with all of the goodies to make such a transplant easy, but it takes time to source the right stuff in the shop and the yard. By quitting time, we were just about ready.
Tomorrow is a new day… Especially for this Ford truck.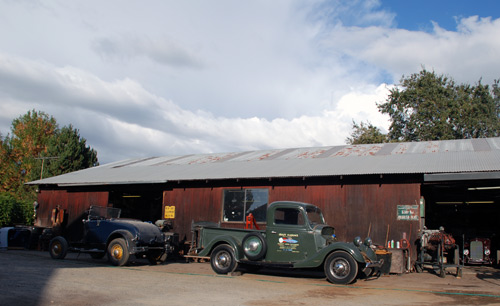 30

Comments on the H.A.M.B.