Ranche De Tardel: Day 2
Yesterday, I failed to mention a particular pleasure at Tardel's. It seems there was a large air race in Reno over the weekend and as luck would have it, many participant's have routes home that include a pass over the ranch. So while I've been wrenching away on a dirty old flathead, an occasional P51, P38, aT6, Yak, etc.. roars overhead. The spectacle of it all just further emphasizes the dreamy environment.
All that aside, we busted our asses out on the ranch again today. When I left you last, we had a poorly running flathead and plans to fix it. My first chore was to strip the motor down – remove the heads, starter, pan, and finally the pistons. Being the incompetent hack that I am, it took me all the way up until lunch to get it done.
Just as I was pulling the last piston, I heard the distinct sound of bias plies rolling on gravel. I looked up to see a great a-roadster sporting full fenders. I didn't catch the owner's name, but he had the "maiden voyage" smile.

Caption: I'm a tease, I know… But you will have to wait for the debut of this car at the Hot Rod Revolution to see her in full.
After some decent west coast Mexican, I started back at it… Only this time, I had Vern by my side ready to do some teaching. While pulling the pistons, I had noticed more than a couple of broken rings. With the smoke show accounted for, I looked to Vern to show me the the reasoning behind the little motor's knock. It didn't take him long to find the bad bearing and access the situation.
Amazingly, this old tin sleeve block was still standard bore. Vern grabbed some NOS pistons, new rings, and some new bearings and put me back to work. A few short hours later and we had the motor back together and were ready for another test run. She fired crisply… ran smooth, quiet, and cool.
The 1940 Ford dealer manual quotes 8 hours for this very job. I looked at my watch after we fired the motor and we got her done just in the lick of time. I guess I get to go back to work tomorrow!
Man, I'm learning a lot of stuff in a short amount of time. They ought to bottle this place.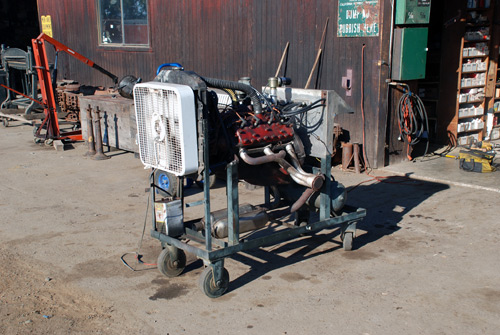 Caption: She's running…
Talk at ya tomorrow…
30

Comments on the H.A.M.B.