Ranche De Tardel: Day 1
The weather was crisp this morning in Santa Rosa. The cool air surprised me as the sky was clear and the sun was bright. It made the setting at the Tardel shop all the more dramatic. My first thought upon arriving was, "this place is heaven."
If you've never been to Tardel's, imagine a prune orchard with about two acres carved out for a decent sized parts yard and a series of barns. The main shop is made of weathered galvanized steel and is situated under a number of large trees. The trees are an important detail because of their effect on the environment inside. As you walk around the interior and take in the amazing projects, parts, and displays within, you are interrupted by the sound of acorns dropping on the steel roof every ten minutes or so. Ping… Ting… It's awesome.
Even so, my job today would be performed mostly outside the shop. Vern had dug up an old flat motor that had been sitting in the yard for a number of years and my orders were to see if it would run. Our only clue to it's history was stenciling on the driver's side head that had been done long ago. It read:
"1940 Sedan Delivery. Clean."
The old motor might have been clean at the time it was stenciled, but it certainly wasn't now. A quick tour with a wire brush made her a tad more presentable. Internally, it was a different story. The plugs looked pretty damn clean and a compression check showed all cylinders above 100 pounds. So far, so good…
Next, I pulled the intake in a search for sludge. Nothing there, so we put her all back together again confident this one was a runner. Once on the engine test stand, Vern threw on a new French fuel pump while I slapped on a later '42 style crab distributor. After topping off the fluids, we were ready to go.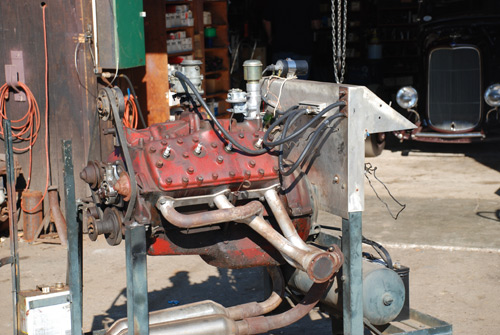 Vern hit the starter and she fired after a single cough. It's always neat to fiddle with an old motor and see it breathe again, but doing it side by side with a guy like Vern is one of those once in a life things. You would think that after so many years, Vern would be immune to such excitement. He wasn't… I caught a grin on his face the instant the old motor came to life. I love that.
Still, this story doesn't end too perfectly. After running for a bit, the motor gave a smoke show and a rod knock appeared. Shit.
Tomorrow's chore? Rebuild it.
29

Comments on the H.A.M.B.