Jack Hershey & "Shorty" Ewing's '57 Thunderbirds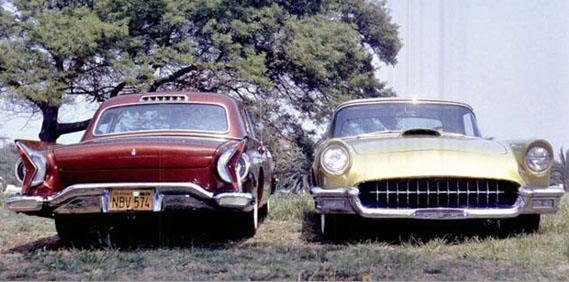 This is a car show sight you don't behold everyday: Nearly identically modified 1957 Thunderbirds, owned by a couple of buddies who just wanted to pool their ideas together and build two beautiful mild customs with much in common. Jack Hershey of L.A. and Short Ewing of Hawthorne both used Edsel wagon taillights with modified rear fenders, both used Corvette grilles, '58 Bonneville roof vents, and 1957 Lancer wheel covers. Each car also featured a custom hood scoop, filled bumper exhaust outlets and shaved side trim. The only differences were Hershey's Bird did have shaved door handled (leaving only the push button), and he went with Lime Gold paint. Ewing's car was sprayed in a Mandarin Red over a gold base. Both cars are stunning, simple and elegant. Yes friends, less is more… Even in pairs.
These pictures are from "Kustomland" The Custom Car Photography of James Porter 1955-1959. Sorry that some of the images are cropped strangely or missing bits- It's all I could scan from the book.
15

Comments on the H.A.M.B.