Chuck Porter's Platypus Bonneville Racer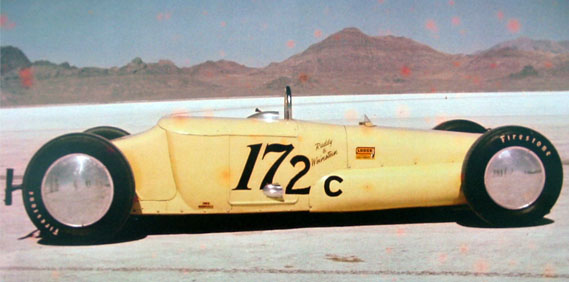 Some of you may remember the Platypus from the 2008 GNRS historic race car display, but I recently received some unpublished pictures of Chuck Porter's injected Ardun Flathead-powered T that ran a record 211 at Bonneville in 1958. Along with it's matching push truck, the rear engined beauty was an engineering marvel with top notch construction quality and fine bodywork that Porter was know for. The color build shots were taken by Jim Busby Racing during their concours restoration of the historic racer, and are worth examining for all the nice chassis and motor details in their effort to put the car back to exactly 'how it was', right down to the eight individual exhaust tips. Also included are some rare shots from her initial runs on the salt back in 1956.
Note: If you've never seen this car in the flesh and you live around Northern California, your in luck: The Platypus will be at the Palo Alto Concours (along with other historic racers) on Sunday, June 26th.
19

Comments on the H.A.M.B.