Edelbrock parts catalog for '59-'60 (part I)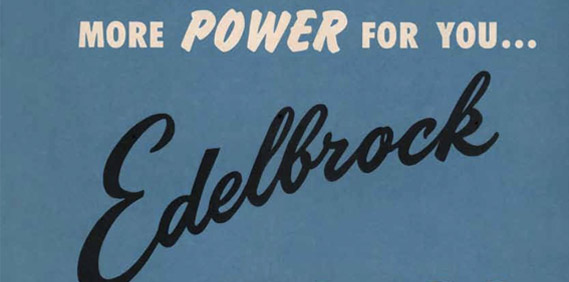 1959 to 1960 was a major transition period in the automotive world, and it affected hot rodding & customs for years to come. For starters, the small car craze started by the Volkswagen Beetle had now impacted US car sales, resulting in the all new compact Ford Falcon and the Chevy Corvair for 1960. The sale of Flathead and Straight 6 speed equipment was on the slow decline from the newer 'small block' 265-283 Chevrolet V-8 stealing thunder as the lightweight, compact mill option for Model A's and Deuces. Not to mention many the late 50s factory big V-8 motors now made upwards of 300+ reliable horsepower (often backed by a factory automatic) for a very reasonable price, so engine and tranny swaps became less and less frequent on customs. Who bothered to swap the motor on their 1959 Pontiac Bonneville when it could be ordered with a factory high output tri-powered 389 making 348 horsepower?
This catalog shows the last of the 'golden years' at Edelbrock before many these changes fully took hold on the aftermarket parts world. It was still about "More Power for you…" souping up the little mill or doing the big V-8 swap.
**Part II with the rest of the catalog pages coming next time!
15

Comments on the H.A.M.B.