1939 Worlds Fair
I've got a pretty short list of pre-WWII events that I would like to have experienced in the flesh, and would have to say that the 1939 New York Worlds Fair is definitely one of the tops. It was a very special window in time of America's history, as we hadn't got involved in the turmoils of Europe or Asia yet, and our industrial/ transportation design was reaching a high water mark in terms of style and elegance. Cars were getting lower and longer, and streamline was look. Nothing makes my heart speed up quite like the Deco lines of a 1939 Zephyr three window coupe, Mercury Eight convertible or a Studebaker L5 coupe express. The U.S. still had an optimistic view of the future, and a can-do attitude about everything- It was all positively possible in our eyes at that point.
The Big Three- GM, Ford, and Chrysler each had spectacular displays at the 1,200 acre Fair that year:
GM had the Futurama display and ride that was designed by Norman Bel Geddes, and offered a glimpse of what life might be like 20 years into the future- 1960. Automated, 100 mph super highways with no traffic jams and vast suburbs of clean perfect homes. General Motors would be there to lead us onward with all the 'New Horizons' in the great American way…

Next door to GM's building was the 7 acre Ford Pavilion and the "Road of Tomorrow" with an elevated track system and test drivers cruising the latest Lincoln Zephyrs, new Mercury Eights, and of course the Ford line up of fine vehicles. Inside the main hall was an over-sized sculptural working Ford Flathead V8, lots of great displays, live action theater, and spacious gardens.
Great clip here.
Last up was Chrysler, not to be beat by bigger boys, offered 3D glasses (Polaroid polarization) for an air-conditioned theater presentation of "In Tune With Tomorrow.", a stop motion film showing a '39 Plymouth being assembled by it's self. I wish I could embed the video, but it seems to be missing. If anyone has it, please post.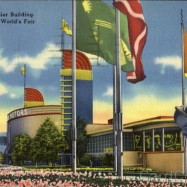 Color footage of all three buildings is here.
8

Comments on the H.A.M.B.