Coop
I don't know Coop all that well, but he has taught me more than a few life lessons. It's a long story that I won't bore you guys with, but the end result says a lot about who he is. We are pals because Coop is more than just a good guy – he's a great one. We all know his art and I'm betting more than a few of you know his story. I didn't… And because of that, I did this interview. Enjoy.
TJJ: When are where did the art start?
Coop: I've always done this. My mom still has drawings that I did when I was 4 or 5, of corvettes and racecars with big 'n' littles, blowers and zoomie headers. My grandpa was a career mechanic for a dairy in Tulsa, Oklahoma, and he was always taking me to cars shows and dirt track races. When I got my first car at 15, a $500 '68 Plymouth Sport Fury, he helped me pull the motor and rebuild a replacement 318 that a friend donated.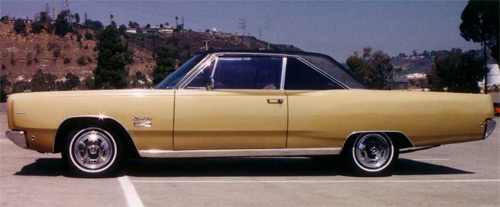 Caption: Not Coop's, but a '68 Fury anyway…
TJJ: At what point did you realize that you could do this full-time for a living? Did it work right away?
Coop: I started getting paid to make art when I was still in high school, picking up illustration jobs for local ad agencies, as well as jobs for local bands and such. When I moved to California around age 19, I was sorta obligated to make a living with art. I worked at a screenprinting shop in Yucaipa for a couple of years, until I was making enough to support myself full time from freelance gigs. I won't say I was getting rich, but I always managed to keep a roof over my head and Top Ramen in my belly.

Caption: Sketches from Coop's mind. I'm in love with the pudgy proportions of the center robot. The monster car rules as well…
TJJ: Your first devil girl… What inspired it?
Coop: I would say probably from seeing Robt. Williams do them in his early paintings. I was obsessed with William's art as a teen, and compulsively tracked down everything that was an influence on his work. He was my introduction to classic American tattoo art, sideshow banners, and commercial illustration from the first half of the 20th century. When I was in high school, I tracked down every image Bob referenced in the "Zombie Mystery Paintings" book. It turned out to be a great education in American popular art.
Due to Bob's influence, I became obsessed with (among other things) devil images from advertising and product packaging. It seemed strange to me how devils became an image of fun and temptation in the USA, a country built on Christian values. That kind of imagery had fallen out of favor sometime after the fifties, and had regained some of its subversive power by the time I was a teen in the early 80's.
At the same time, I was discovering a lot of classic pinup art and photography. There was a little digest mag in the early 80's called "The Betty Pages" that introduced me to a lot of that stuff. (Hard to believe these days, but there was a time when Bettie Page was completely unknown to hipsterdom.) Between that stuff, and Bob's influence, I started doing these drawings of devils and pinup-styled drawings of devil girls, and the more I did, the more people dug 'em.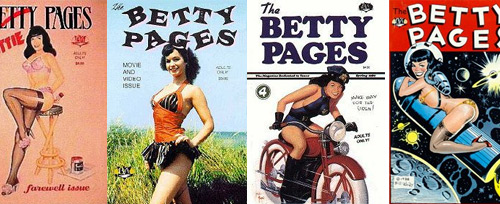 At the time I was cranking out so much stuff, trying to get better as I kept up with deadlines, I didn't have time to think about any of it. As I get older, I'm a bit more ambivalent about the whole thing. I was wearing my influences on my sleeve, as most young artists do, but I hope that I eventually managed to make it my own.
Of course, karma is a bitch, so I have to hold my tongue when I see a young guy biting on a bit of my style on his way up!
TJJ: You've become part of pop culture… As big as anyone really doing this stuff… How does that make you feel?
Coop: It's always gratifying to have someone say they dig your work, and I'm certainly happy about the success I've had. It's strange that people sometimes think that I had some master plan to do all this stuff, but I've just stumbled along the same way anybody else would. When I drew that Devil with a cigar clenched in his teeth, it was a one-off thing for a Zippo lighter. It took me about thirty minutes from start to finish, and I had no idea that it was going to become my trademark, my Flying Eyeball or Rat Fink. (I hope it has that kinda staying power, at any rate.)

TJJ: At some point your art carried over to the hot rod culture. I can't really remember when or how that transition was made. It just seemed like one day you were every where. How did it all come about?
Coop: I'm not really sure.., that imagery was always an influence and part of my work, and I think other car guys who were my age, and dug the same stuff, just sorta latched on to it. One of the first pieces of merch that I did for myself was waterslide decals, because I wanted some for my 50 Ford!
One interesting thing about the devil girl stuff; sometimes people ask why I don't draw angel girls, which I guess would make a certain amount of sense. The truth is, I don't think of the devil girls as representing one-half of a duality, a good/evil thing. To me, the devil imagery represents hedonism and indulgence, living in the moment, relishing excitement and danger, enjoying what the world has to offer today, instead of living in denial in hopes of a reward in the afterlife. I think that's one reason why hot rodders and bikers gravitate to these images.
TJJ: If you could hang out with one hot rod or art guy for a day, dead or alive, who would ya pick?
Coop: Boy, there's so many guys I would like to meet, if only to see what they were like as people. I think I'll pick Henry Ford and Pablo Picasso, two world-changing men of genius with legendary reputations as difficult people to know.
As far as living legends, I've been very lucky in having met many of my heroes, and even becoming good friends with one or two of them, like Robt. Williams, f'rinstance.
TJJ: Your first hot rod. What was it?
Coop: I've always had shitty old cars, but my first car that somebody on the HAMB would consider cool was my 1950 Ford. I bought it from Keith Weesner in the early nineties, and did tons of crazy stuff to it before getting rid of it about ten years later. Keith and the rest of the Burbank Choppers, as well as Robt. Williams were big influences on my then-still-developing hot rod aesthetic sensibility.

Caption: The 1950 Ford coupe formally owned by Keith Weesner and… Coop…
TJJ: You've got quite a stable now don't ya? Tell us about each.
Coop: I've got my 29 Sedan, which is on the road and more or less finished, and a 65 Falcon that I just bought for a daily driver, as well as a black 66 Olds Toronado that belonged to Anton LaVey. Lastly, I'm collecting parts to build a 1929 model A phaeton. It will be a highboy on '32 rails, pretty much a clone of Jim' Jake" Jacobs' tub, which is probably one of my all-time favorite hot rods.
I'm a big gushing fanboy when it comes to Jake. My favorite era in hot rodding is epitomized by the original late 60's Early Times cars, and to me Jake is the pure essence of hot rodding, as well as the nicest, coolest guy you'll ever meet, a Bodhisattva among gearheads.
TJJ: Your blog rules… I read it every chance I get. The coverage of the Mexican race was incredible. Now that a few months have passed, what's your impression of the whole thing?
Coop: Wow… racing in La Carrera Panamericana was an amazing, life-changing experience, and it's hard to put into words just how much I got out of it. It really made me feel that there was nothing in this world that I couldn't do if I decided to do it. More than the pure fun of racing though, the experience of spending close to a month in Mexico, seeing such a big chunk of the country, spending time with the wonderful people who live there, as well as the motley crew of racing fanatics who race in La Carrera… just incredible.
I'm hooked on La Carrera; I'm going back again in a couple of months, and I cannot wait.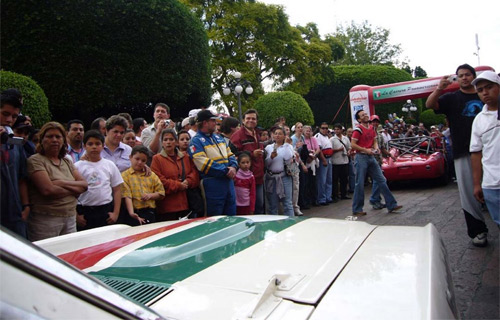 Caption: Coop does Mexico…
TJJ: What's next as far as hot rods go? Any plans? Projects?
Coop: I'm actually trying to figure out a way to build a racecar for La Carrera 2008! I've also been gathering parts for a sixties-style "Street Freak" gasser, but I gotta finish the phaeton first.

Caption: The Phaeton
TJJ: What's next as far as art goes?
Coop: I just gotta keep painting.
……………………………..
And keep painting he has… I didn't ask Coop about it, but some of his latest stuff is what really made me want to do this interview. I'm not sure why I didn't ask, I just like not knowing I guess. It's simple. It's black on white. It's hot rod parts and the like…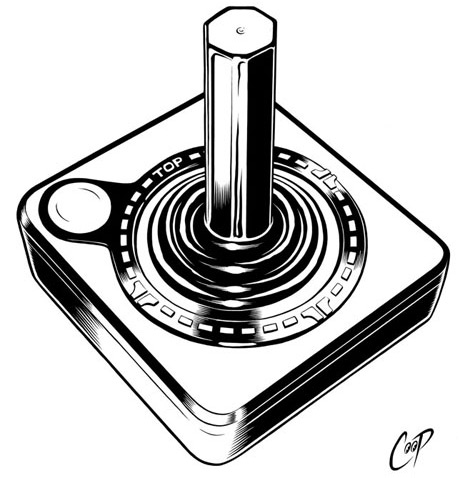 Resources:
– The Art Of Coop
– Positive Ape Index (Not Safe For Work If You Are A Suit)
– CoopStuff.com
59

Comments on the H.A.M.B.