Almquist Sabre Roadster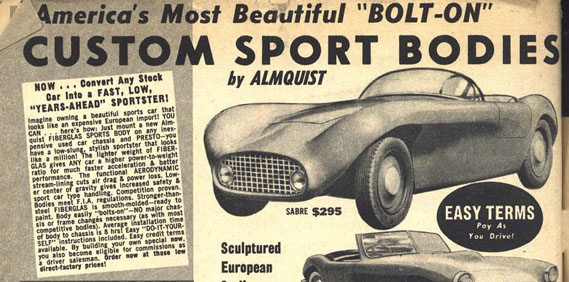 Ed Almquist, founder of Almquist Engineering, is one of the big names in the history of hot rodding. Almquist catalogs were packed with performance parts and custom accessories that could be delivered to your door if no local speed shop existed. Besides selling go-fast bits, and unknown to many hot rodders, Ed also made a line of fiberglass kit car bodies that sold pretty well when fiberglass became all the rage in the mid to late '50s.
Almquist acquired the financially-troubled Clearfield Plastics company that made fiberglass sports car bodies to fit on Fiat Topolino or a Crosley chassis. The production manager at Clearfield  was Harry Heim, who went on to design the Almquist bodies. "Harry was a very talented mold maker," recalls Almquist, "It was amazing how quickly he worked." Both Ed and Harry were fans of Italian sports car design, and the early Almquist bodies definitely had a European-inspired look.
The first kit body, the "Sabre", was a very compact sports car with an ultra-short wheelbase, deep side coves, and a bobbed nose. The front fenders raked in behind the front wheels as a styling element and to provide hot air to escape from the brakes. The back was as bobbed as the front, and the car sported grille or fender mounted headlights and no bumpers. The Sabre II was a styling update from the first body, but offered in a slightly longer wheelbase. Make no mistake, with any substantial horsepower motor, the car was still a very scary handful to drive, as buyers could outfit their Sabre kits with a variety of running gear and Almquist speed equipment. More models followed, such as the Speedster, Thunderbolt, and El Morroco.
The Almquist bodies were high quality, reinforced with metal, and featured molded-in dash panels. Ed's vehicles, like most glass car kits of this era, required semi-professional fabricating skills to assemble. The floors, firewall, and inner wheelwells all had to be fabbed from scratch in either sheetmetal or fiberglass cloth. The bodies were crudely attached to the frames with sheetmetal screws, stove bolts, and fiberglass matte.
16

Comments on the H.A.M.B.