Design Inspiration
A lot of folks claim that traditional hot rods and kustoms are stuck in a vacuum sans innovation. I've never felt that we as a genre have even gotten close to the rim of this cup and have a long way to go till we run over. Innovation doesn't have a time period. Tradition, at its very core, is based around innovation… at least in the hot rod and kustom world.
With the above in mind, I always think it's a fun exercise to explore design as a whole and look for hints of thoughts and ideas that might transfer well to our medium. Here's a list of some of my favorite design efforts of all time:
P51 Mustang
This is an obvious one, right? The p51 is possibly the most fluid piece of industrial design to ever come out of an American studio. While there are some "theme" cars being built presently around this type of aircraft, I don't think the inspiration should be taken so literally. Look at the details and find the small stuff that turns you on. Example: P51 canopy tracks and latches make incredibly cool (and expensive) window regulators.
The Hughes H-1
I didn't want to include two aircrafts here, but had no choice really. Howard Hughes' H-1 was one of the founding fathers of streamlined designs, so it's only natural that many of the details could be transferred to your hot rod or custom. Example: The flush rivets of the H-1 could be cheaply replicated on a hot rod and you can't beat the look and feel… And check out that long hood!
1965 Buick Riviera
I limited myself to only one car on this list, so I picked what I consider to be the best american car design of all time. These cars have inspired for generations, so my meager comentary is really not necessary here. Steal something… anything… you can't go wrong. Example: Notice how this car leans forward from every angle. That was a Bill Mitchell trademark and one he admittedly picked up from looking at a lot of early Barris cars, Rolls Royces, and Ferraris.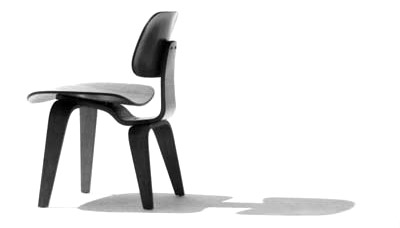 Herman Miller Molded Plywood Chair by Charles and Ray Eames
This is another favorite of mine and one that I consider among the best of industrial designs. What the Eames folks did so well is design without regard to material restrictions. They didn't let the impossible get in the way of their pursuit for good design. Example: The easy move here is to cut the legs off and call it a bucket seat. That could work, but try to think the way the designers did. How else can you use molded plywood? What other non-traditional materials are out there that might not have been thought about yet? Possibilities…
The Henry Kloss Model 1
Ya ever heard one these? Simply amazing sound from something so small… Kloss was a minimalist and a functionalist. He didn't put shit on anything that didn't have a reason for being there. This radio has three dials and two lights… That's it. His design theory is what draws me to his stuff in our world. Example: Think about everything that goes into your car. Does everything have a reason? Can you justify that extra air intake? How bout that skull shaped air cleaner?
3

Comments on the H.A.M.B.