A Kansas City Wedding
So one of my sisters got married in Kansas City over the weekend. It wouldn't have seemed right if the newly weds drove off in a late-model or a limo, so Marcie and I located a local vintage car to do the duties. At the last minute, the deal fell through and we were left with very little time and no prospects. Enter the H.A.M.B…
Out of desperation, Marcie threw a post up on the H.A.M.B. looking for a suitable car in the area. Within minutes, the call was answered by "Kommuter". Seems his folks had an old Ford woodie, lived fairly close, and were more than willing to help out. A few emails and the deal was done. Marcie and I didn't expect much – we were just relieved to have something fun for the newly weds.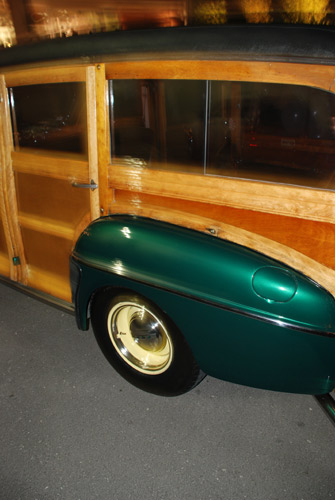 Well, expect little and get the moon… Steve and Patty Mallory showed up in an absolutely perfect '47. Great little stance, sanitary construction, ideal amount of wood patina, mellow exhaust note, etc.. We couldn't have built a more perfect car for the occasion. The bride and groom were ecstatic, surprised, and over whelmed. Perfect.
And as cool as it was to have the car there, it was just as cool to have made some new pals. The more you are around these old cars, the more you realize what a magnet they are to good and generous people. By the time Steve and Patty pulled out with the newly weds in tow, I felt we had known them forever.
You've seen me write it before and I'm sure you'll see me write again, but damn man…
I love old cars.
Thanks to Steve and Patty, thanks to Kommuter, and thanks to the H.A.M.B. I owe ya all…
36

Comments on the H.A.M.B.