The Hot Rod Race…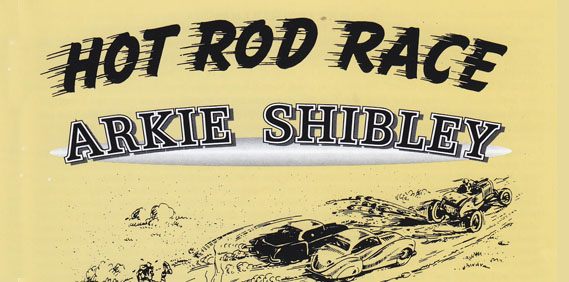 Almost exactly 60 years ago (November of 1950), Arkie Shibley and his Mountain Dew Boys released a Western Swing single called "Hot Rod Race" (Gilt-Edge record #5021), a catchy little Boogie Woogie number about a Ford and a Mercury racing out of San Pedro, ripping through little towns heading north towards the Grapevine. If you listen to the lyrics, the words are very accurate about describing early speed part trends like twin carbs, dual exhaust, and a Columbia two speed rear end. The song ends with a kid in a hopped up Model A smoking both the Ford and the Mercury. Yup, them hot rods always out pace the customs!
'Hot Rod Race' ended up being a big hit, staying on the charts for 7 weeks, peaking at #5 in 1951. It was covered by no less than five other major artists in 1951 trying to capture some of Arkie's gold, and change the line "ripping along like white folks might" to something more palatable, which got more stations to play their version of the song. More importantly, 'Hot Rod Race' opened the door for a long series of hot rod songs throughout the 50s and 60s, including Charlie Ryan's famous 1955 follow up hit, "Hot Rod Lincoln".
Some of the covers from 1951:

40

Comments on the H.A.M.B.