Buster Dobb's 1953 Corvette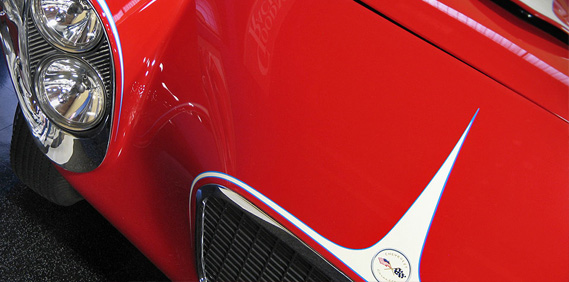 I've mentioned my affinity for Corvettes before here on The Jalopy Journal. Typically I fall for race inspired varieties, but it's hard to deny the likability of the Dobbs '53. Hell, I've probably even covered the car before, but recently I stumbled upon some restoration photos and figured, if anything, an update was in order. But first, some history:
A man by the name of Buster Dobbs built the car in 1959. He started by molding in a 1956 Studebaker Hawk grille and frenching in a set of '58 Lincoln headlights. He left the belt line clean, but formed some subtle fins on the rear quarters and added a set of '56 Dodge taillights. From there, the car was finished off with a small scoop on the hood and, of course, some tasty scallops.
It's hard to argue that the finished product is a cleaner vision than a stock '53 Corvette, but still… there is something about this little car that just works. There's personality there. I don't know if it's the almost Ferrari inspired front-end or just the audacity of cutting the fabled GM glass, but this car sings to me louder and with a little more clarity than a stock Detroit offering. Put frankly, this is a "custom rod" that I can dig on.
It was restored in 2003 by William and Pat McCain out of Arizona. Here is the finished product:
45

Comments on the H.A.M.B.