The Drag Nationals: 1955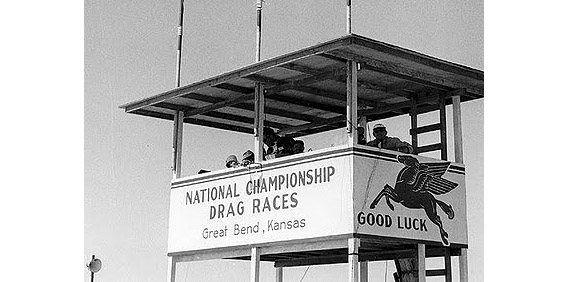 In late 1954, with organized drag racing still in its early years, a group of California racers, supervised by the NHRA Safety Safari team (just back from its 12,000-mile journey across the country) had staged the inaugural California State Championship Drags at the Madera Airport. The event was a huge success, and led the NHRA to proclaim that each of the 48 states should host its own championship in 1955, culminating in a National Championship drag meet towards the end of the year.
In spring 1955, NHRA President Wally Parks and Field Director Bud Coons made a whirlwind tour of the Midwest, scouting locations for the first Nationals before settling on Great Bend, Kan., partially for it's very central location in the US.
An 8,000-foot runway at the Great Bend Municipal Airport would accommodate the nation's fastest dragsters during the four-day event, set to run Thursday, Sept. 29, through Sunday, Oct. 2 (although the final day was rained out). It was sponsored by NHRA and Mobil Petroleum, in conjunction with the Sunflower Rod & Custom Association.
Check out the great color home film, nearly 10 minutes long, documenting this historic event.
26

Comments on the H.A.M.B.