Repro Steel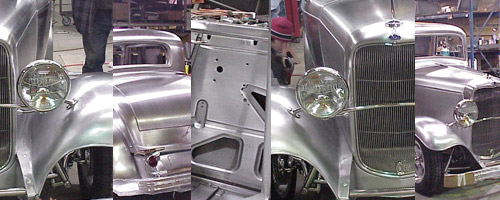 Brookville's 3w coupe body is ready to go and I'm conflicted by the whole thing.
A few years ago my wife and I flew into Austin for the Lonestar Roundup only to be greeted by Reggie and his '32 5w coupe. He threw us the keys and let us drive it for the weekend. I've never really gotten over it. Driving that car was the closest thing to a religious experience I have ever had. It just felt so historical… Me, my wife, and a legendary car driving down south Congress Street in Austin, TX. Dream a little dream…
I don't know if that feeling would stick around like it has if Reggie's car wasn't an original, but then again owning a steel reproduction (don't get me started on glass) might be my only shot of ever owning a '32. Two sides to this coin for sure… And this is a question that will be asked more and more as reproduction bodies, vintage speed parts, and other rarities make it to market.
My answer? Nothing can replace the soul of an original part, but it sure is nice to have the alternatives we do these days. Have you seen the new repro 97's? More on that later…