Ode to the 2 Door Wagon…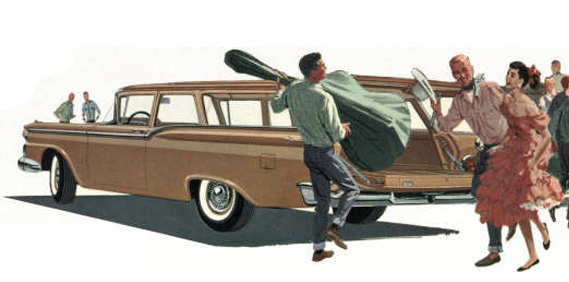 It doesn't make much sense, does it? Then again, most stand out car body types have an element of impracticality- The 20s/30s roadster with no side windows and flimsy top, or the 30s/40s tudor sedan with poor back seat access. One of my favorite 1950s body styles is the two door station wagon, which basically evolved from the post-war steel bodied sedan delivery model. You've got seating for six or more, plus luggage, but you've only got one door on each side, and often an awkward liftgate/ tailgate combo in the back. The point of a station wagon is to haul families and groceries, right? No matter my friend… In my humble opinion, the short wagon in a lowered and customized guise just looks right. I've collected a few pics of my favorite manufacturers designs from this era (Ford seemed to make the most of these each year), both custom and stock. Please add your own 2 door family truckster to this post!
229

Comments on the H.A.M.B.