The Hot Rod Cinematic – It's On…
Gallipolis will be a much different place from now in a week or so (June 30, 2007)… That's when hoodlums from all over will be invading the small little Ohio town for The Jalopy Journal's own Hot Rod Cinematic – car show by day and drive-in movie by night. Gonna be in the area? You can get all of the details here.
And in late developing news, we got word of a competition of sorts – The Coker "Drive-In" Challenge… The car owner that can get as many folks in his/her car without being noticed by our judge will win a brand new set of Coker tires. More details after the jump.
Rules:
1. Winner will be the owner of the car.
2. Any participants can be seen by our judge will not be counted towards a total.
3. Judges will walk the perimeter of the car and look under it. They will not open any doors or decklids.
Prize:
Winner will recieve a brand new set of Coker tires worth up to $750! Their choice of:
1. Set of four Coker, American Classic or BFG Silverton Whitewall radials.
OR
2. Set of four (could be big and littles) bias whitewall or blackwall Firestone tires.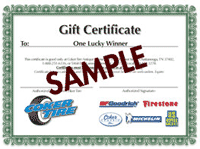 How To Participate
To get in the challenge, simply find Ryan, Marcie, or Kevin at the show…
17

Comments on the H.A.M.B.